The One-Page Project Manager: Communicate and Manage Any Project With a Single Sheet of Paper
ISBN: 978-0-470-05237-2
160 pages
November 2006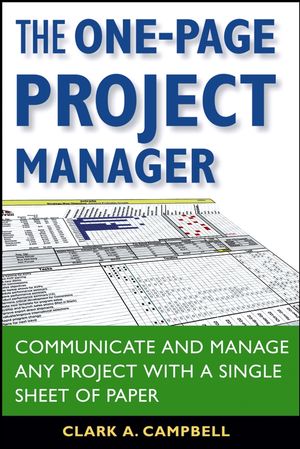 The One-Page Project Manager shows you how to boil down any project into a simple, one-page document that can be used to communicate all essential details to upper management, other departments, suppliers, and audiences. This practical guide will save time and effort, helping you identify the vital parts of a project and communicate those parts and duties to other team members.
See More
DOWNLOADABLE FORMS
ix
FOREWORD xi
ACKNOWLEDGMENTS xv
INTRODUCTION—A ONE-PAGE PROJECT MANAGER: IT MAY SEEM LIKE MAGIC—BUT IT IS VERY REAL xvii
CHAPTER 1—WHY THIS BOOK IS NEEDED 1
CHAPTER 2—WHAT IS THE ONE-PAGE PROJECT MANAGER? 7
CHAPTER 3—PROJECT OVERVIEW 15
What Is a Project? 15
What Is Project Management? 17
Benefits of Project Management 18
Aspects of Effective Project Management 20
CHAPTER 4—FIVE ESSENTIAL PARTS OF A PROJECT—AND THE ONE-PAGE PROJECT MANAGER 23
Ownership Is Remarkably Powerful 26
The Matrix 29
CHAPTER 5—TWELVE STEPS TO CONSTRUCTING THE ONE-PAGE PROJECT MANAGER 35
Constructing and Filling in the One-Page Project Manager 36
Step 1: The Header 37
Step 2: The Owners 45
Step 3: The Matrix—The Tool's Foundation 49
Step 4: Project Objectives 50
Step 5: Major Project Tasks 55
Continuous Improvement 59
Step 6: Aligning Tasks with Objectives 61
Step 7: Target Dates 66
Step 8: Aligning Tasks to the Timeline 68
Step 9: Aligning Tasks to Owners 71
Step 10: Subjective Tasks 75
Step 11: Costs 79
Step 12: Summary and Forecast 81
CHAPTER 6—THE ONE-PAGE PROJECT MANAGER IN ACTION 109
Five Steps to Creating a Report Using the One-Page Project Manager 109
Examples of the One-Page Project Manager in Action 113
Meetings Are Better with the One-Page Project Manager 123
APPENDIX—VARIATIONS OF THE ONE-PAGE PROJECT MANAGER 125
ISO Implementation 125
Entrada 126
Finishing Cornerstone 127
Carrots Culture 128
INDEX 131
See More
CLARK A. CAMPBELL is a Senior Vice President at OC Tanner, where he has served in a number of executive positions and managed numerous large projects.
See More
Learn more about