Compositions in Architecture
ISBN: 978-0-470-05364-5
336 pages
March 2009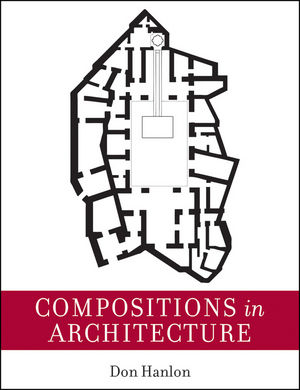 Architecture
Use the patterns of architectural composition to inspire creative design
In Compositions in Architecture, Don Hanlon offers students an excitingly original path to dis-covering architectural composition, one that avoids the traditional either/or choice between theory and practice. By exploring the underlying patterns of organization in architecture, this book enables the reader to connect architectural theory with the design process. And by relating what happens in the design studio with how the architect thinks about architectural composition, the approach spurs creative thinking.
With examples that range across diverse cultures and historical periods—from the famous to the obscure—the author reveals the universal compositional strategies that can be used to solve particular architectural problems. Readers will explore:
The five formal properties of composition—number, geometry, proportion, hierarchy, and orientation

How the plan conveys the central organizing strategy of a building

Typological similarities of architectural forms that cut across cultural, social, historical, and geographic boundaries
Enriched by a graphic approach that will appeal to visual learners, Compositions in Architecture reveals the formal structures in architecture throughout the world as well as through the ages and inspires architects to turn abstract ideas into real-world design.
See More
PREFACE.
INTRODUCTION.
FIVE FORMAL PROPERTIES OF A COMPOSITION.
NOTES ON THE PLAN.
TYPE.
THE SQUARE.
LAYERING.
LINEAR FORMS.
CORE AND SHELL.
FRAME AND OBJECT.
CLUSTERS.
SUBTRACTIVE SPACES AND THE DEEP WALL.
ARTICULATED SKIN.
METAMORPHOSIS.
DEFORMATION.
CONCLUSION.
GLOSSARY.
BIBLIOGRAPHY.
INDEX OF BUILDINGS.
See More
Don Hanlon is Professor of Architecture at the University of Wisconsin—Milwaukee. He is the recipient of the UWM Alumni Award for Teaching Excellence and the AIA-UWM Student Chapter Educator Award, both in 2001. Professor Hanlon is a registered architect working on residential, commercial, and institutional projects.
See More