E-book
Unlocking Public Value: A New Model For Achieving High Performance In Public Service Organizations
ISBN: 978-0-470-05452-9
304 pages
October 2006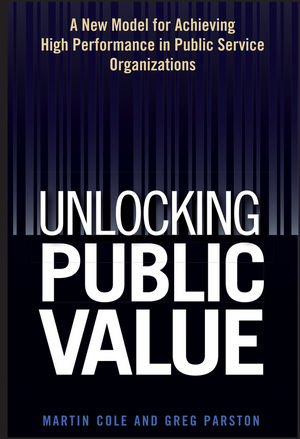 A new approach to understanding and improving performance and public value

This book presents the Public Service Value Model-an innovative, rigorous approach to defining public outcomes and quantifying results-to help readers understand and improve public service delivery. Filled with in-depth insight and expert advice, this guide will arm public service managers-whether in government, nonprofit, or even for-profit organizations-with a practical framework that can be used to define outcomes and manage trade-offs in public service delivery.

Martin Cole (Hartford, CT) is Group Chief Executive of Accenture's Government Operating Group. Greg Parston (London, UK) is Executive Director of the Accenture Institute for Public Service Value.
See More
Introduction.
Preface.
Chapter 1: The Public Sector Squeeze.
Chapter 2: Zeroing In on Outcomes.
Chapter 3: Why Is It So Hard to Measure Public Value?
Chapter 4: Defining Value.
Chapter 5: Measuring and Analyzing Public Service Value.
Chapter 6: Driving Results.
Chapter 7: The Key to Unlocking Public Value.
Appendix: Public Service Value Methodology.
Notes.
Bibliography.
About the Authors.
Index.
See More
Praise for Unlocking Public Value
"Unlocking Public Value addresses one of the most challenging questions for governments: how to measure transformation in order to improve outcomes and deliver value to citizens."
—Steve Ballmer, Chief Executive Officer, Microsoft Corporation
"All public services, the Metropolitan Police Service included, are faced with the increasing need to achieve more with the same or less resources at a time of escalating demand and rising customer expectations. This book provides some fascinating insights into public value, how to measure it and, at the same time, may assist in making informed judgments about future spending decisions."
—Sir Ian Blair, QPM, Commissioner of Police of the Metropolis, U.K.
"Government performance excellence needs instruments that help public sector managers to focus on when and how to create and measure public value. The Public Service Value Model is a sound and outstanding step forward in the field of strategic management in the public sector."
—Julio Gomez-Pomar, Former Secretary of State for Public Administration, Spain
"Public value is the most exciting and widely discussed concept in contemporary public service policy. It offers a common language to connect public services. This book will help you to put clothes onto your particular emperor."
—Ed Mayo, Chief Executive of the National Consumer Council, U.K.
"While pressure on public budgets increases at the same time expectations of performance rise, this is an excellent and example-rich guide to tracking performance and measuring real outcomes rather than just activity or outputs. It shows how creative experimentation can show the best methods of satisfying taxpayers who want to experience the real effects of the investment of their dollars."
—Sir Mark Moody-Stuart, Chairman of Anglo American plc and former Chairman of Shell
"Three cheers for Cole and Parston! In this important work, they have moved well beyond the simple idea of 'customer-oriented government,' preoccupied only with the quality of services, to a 'citizen-focused government' focused on assisting citizens to define and achieve important social outcomes in cost-effective ways. The practical tools they have developed will help citizens, taxpayers, clients and public managers align and achieve a shared concept of public value."
—Professor Mark Moore, Kennedy School of Government, Harvard University, and author of Creating Public Value: Strategic Management in Government
"This model for measuring performance in public services demonstrates cutting-edge research. In addition, it provides public managers with a hands-on tool for measuring, evaluating and improving public performance. An excellent study!"
—Andrea Römmele, Professor of Communication Management, International University, Bruchsal, Germany
See More