Testing SAP R/3: A Manager's Step-by-Step Guide
ISBN: 978-0-470-05573-1
400 pages
April 2007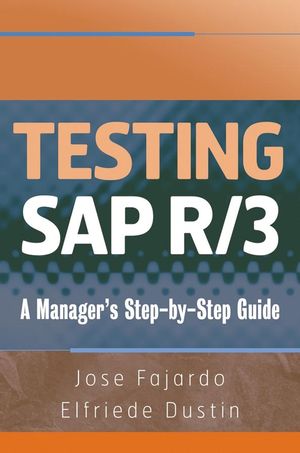 Testing SAP R/3: A Manager's Step-by-Step Guide shows how to implement a disciplined, efficient, and proven approach for testing SAP R/3 correctly from the beginning of the SAP implementation through post-production support. The book also shows SAP professionals how to efficiently provide testing coverage for all SAP objects before they are moved into a production environment.
See More
CHAPTER 1: Introduction.
CHAPTER 2: Status Quo Review of Existing Testing Practices.
CHAPTER 3: Requirements.
CHAPTER 4: Estimating Testing Costs.
CHAPTER 5: Functional Test Automation.
CHAPTER 6: Test Tool Review and Usage.
CHAPTER 7: Quality Assurance Standards.
CHAPTER 8: Assembling the QA/Test Team.
CHAPTER 9: Establishing and Maintaining Testing Resources.
CHAPTER 10: Planning and Construction of Test Cases.
CHAPTER 11: Capacity Testing.
CHAPTER 12: Test Execution.
CHAPTER 13: Management of Test Results and Defects.
CHAPTER 14: Testing in an SAP Production Environment.
CHAPTER 15: Outsourcing the SAP Testing Effort.
APPENDIX A: Advanced Testing Concepts.
APPENDIX B: Case Study: Accelerating SAP Testing.
Index.
See More
A former SAP consultant of PricewaterhouseCoopers LLP and Computer Sciences Corp (CSC),
Jose Fajardo
has worked as an independent SAP consultant for Fortune 100 companies utilizing automated testing strategies and in particular implementing SAP R/3. His competency in automated test tools includes products from Mercury Interactive as well as Rational Corporation.
With subject matter expertise validating and managing testing of ERP systems, Jose has participated in verification of customized implementations of SAP R/3, SAP R/3 Bolt-ons, custom applications and non-SAP applications interfacing with SAP R/3. He has been instrumental in guiding and mentoring Fortune 100 companies in the development of testing strategies and methodologies, creating testing standards, documenting Test Readiness Review checklists, documenting entrance/exit/release criteria, implementing testing best practices, creating Quality Assurance (QA) teams and QA processes, mentoring junior programmers, staffing testing efforts with resources, performing V&V activities, managing outsourcing agreements, preparing for audits of testing results, managing the execution of test scripts, and implementing automated testing strategies.
Elfriede Dustin is a Senior Consultant with Innovative Defense Technologies, and coauthor of The Art of Software Security Testing, author of Effective Software Testing, lead author of Automated Software Testing and Quality Web Systems, books which have been translated into various languages and are available worldwide. She has been responsible for implementing automated tests, or has performed as the lead consultant/manager/director guiding implementation of automated and manual software testing efforts. She resides in the Washington, D.C. area and has consulted for various government agencies.
See More