Rapid Chemical and Biological Techniques for Water Monitoring
ISBN: 978-0-470-05811-4
440 pages
May 2009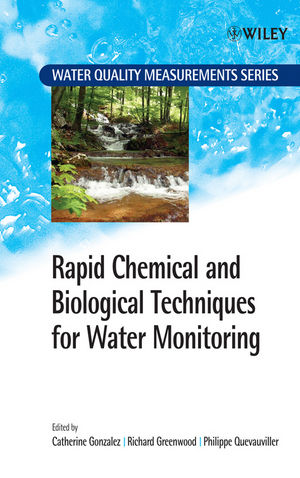 Rapid Chemical and Biological Techniques for Water Monitoring presents in one volume the broad spectrum of monitoring tools, both available and under development, and provides an assessment of their potential for underpinning environmental management and legislation. The book explores screening methods in the context of water policies; chemical methods; biological methods; potential use of screening methods; quality assurance and validation methods; integration of screening methods in water monitoring strategies. The text provides a timely source of information for post-graduates, researchers, and professionals involved in water management at all levels.
See More
Series Preface.
Preface.
The Series Editor – Philippe Quevauviller.
List of Contributors.
Section 1: Screening Methods in the Context of Water Policies.
1.1 WFD Monitoring and Metrological Implications (Philippe Quevauviller).
1.2 Use of Screening Methods in US Water Regulation (Guillaume Junqua, Estelle Baurès, Emmanuelle Hélias and Olivier Thomas).
1.3 Existing and New Methods for Chemical and Ecological Status Monitoring under the WFD (Benoit Roig, Ian Allan, Graham A. Mills, Nathalie Guigues, Richard Greenwood and Catherine Gonzalez).
Section 2: Chemical Methods.
2.1 The Potential of Passive Sampling to Support Regulatory Monitoring of the Chemical Quality of Environmental Waters (Graham A. Mills, Branislav Vrana and Richard Greenwood).
2.2 Polar Organic Chemical Integrative Sampler and Semi-permeable Membrane Devices (David Alvarez and Audrone Simule).
2.3 Main Existing Methods for Chemical Monitoring (Guillaume Junqua, Catherine Gonzalez and Evelyne Touraud).
2.4 UV Spectrophotometry: Environmental Monitoring Solutions (Daniel Constant, Catherine Gonzalez, Evelyne Touraud, Nathalie Guigues and Olivier Thomas).
Section 3: Biological Methods.
3.1 Application of Microbial Assay for Risk Assessment (MARA) to Evaluate Toxicity of Chemicals and Environmental Samples (Kirit Wadhia and K. Clive Thompson).
3.2 Bioassays and Biosensors (Marinella Farré and Damia Barcelò).
3.3 Immunochemical Methods (Petra M. Krämer).
3.4 Biomolecular Recognition Systems for Water Monitoring Benoit Roig, Ingrid Bazin, Sandrine Bayle, Denis Habauzit and Joel Chopineau).
3.5 Continuous Monitoring of Waters by Biological Early Warning Systems (Kees J.M. Kramer).
3.6 Biological Markers of Exposure and Effect for Water Pollution Monitoring (Josephine A. Hagger and Tamara S. Galloway).
Section 4: Potential Use of Screening Methods and Performance Evaluation.
4.1 Monitoring Heavy Metals Using Passive Sampling Devices (Graham A. Mills, Ian J. Allan, Nathalie Guigues, Jesper Knutsson A. Holmberg and Richard Greenwood).
4.2 On-site Heavy Metal Monitoring Using a Portable Screen-printed Electrode Sensor (Catherine Berho, Nathalie Guigues, Jean-Philippe Ghestem, Catherine Crouzet, Anne Strugeon, Stéphane Roy and Anne-Marie Fouillac).
4.3 Field Monitoring of PAHs in River Water by Direct Fluorimetry on C18 Solid Sorbent (Guillaume Bernier and Michel Lamotte).
4.4 Evaluation of the Field Performance of Emerging Water Quality Monitoring Tools (Catherine Berho, Nathalie Guigues, Anne Togola, Stéphane Roy, Anne-Marie Fouillac, Ian Allan, Graham A. Mills, Richard Greenwood, Benoît Roig, Charlotte Valat and Nirit Ulitzur).
4.5 Sampling Uncertainty and Environmental Variability for Trace Elements on the Meuse River, France (Anne Strugeon-Dercourt).
Section 5: Quality Assurance and Validation Method.
5.1 Preparation of Reference Materials for Proficiency Testing Schemes (Angels Sahuquillo, Marina Ricci, Ofelia Bercaru, Hakan Emteborg, Franz Ulberth, Roberto Morabito, Claudia Brunori, Yolanda Madrid, Erwin Rosenberg, Klara Polyak and Herbert Muntau).
5.2 Participation of Screening Methods and Emerging Tools (SMETs) to Proficiency Testing Schemes on the Determination of Priority Substances in Real Water Matrices Organized in Support of the Water Framework Directive Implementation (Claudia Brunori, Ildi Ipolyi and Roberto Morabito).
5.3 Traceability and Interlaboratory Studies on Yeast-based Assays for the Determination of Estrogenicity (Rikke Brix and Damià Barcelò).
Section 6: Integration of Screening Methods in Water Monitoring Strategies.
6.1 Assessing the Impacts of Alternative Monitoring Methods and Tools on Costs and Decision Making: Methodology and Experience from Case Studies (Helen Lückge, Pierre Strosser, Nina Graveline, Thomas Dworak and Jean-Daniel Rinaudo).
6.2 Acceptance of Screening Methods by Actors Involved in Water Monitoring (Didier Taverne).
Index.
See More