IMS Multimedia Telephony over Cellular Systems: VoIP Evolution in a Converged Telecommunication World
ISBN: 978-0-470-05855-8
Hardcover
370 pages
March 2007
US $135.00

Add to Cart
This price is valid for United States. Change location to view local pricing and availability.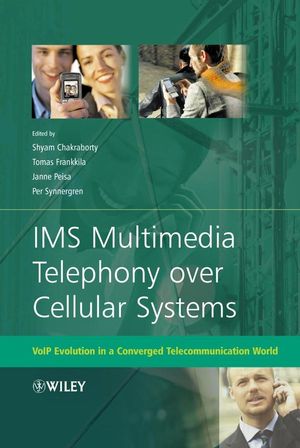 Other Available Formats:
E-book
Preface.
Acknowledgments.
Glossary.
1 Introduction (Shyam Chakraborty, Tomas Frankkila).
1.1 Convergence of Networking Paradigms.
1.2 IMS and the IMS Multimedia Telephony Service.
1.3 Requirements and Challenges.
1.4 Outline of this Book.
2 The Multimedia Telephony Communication Service (Daniel Enstr¨om, Krister Svanbro, Per Synnergren).
2.1 Benefits with IMS.
2.2 IMS Communication Services.
2.3 Multimedia Telephony Service Scenario.
2.4 Summary of the Multimedia Telephony Communication Service.
3 Network Architecture and Service Realization (Gonzalo Camarillo, Shyam Chakraborty, Janne Peisa, Per Synnergren).
3.1 Public Switched Telephone Network and Integrated Service Digital Network.
3.2 Data Networks and the Internet.
3.3 Cellular Systems.
3.4 Quality of Service.
3.5 The IP Multimedia Subsystem.
3.6 The TISPAN Next Generation Network.
3.7 Multimedia Telephony Realization.
4 Session Control (Gonzalo Camarillo, Per Synnergren).
4.1 SIP.
4.2 Signaling Compression.
4.3 Controlling QoS.
4.4 Establishment of Multimedia Telephony Sessions.
4.5 Modification of Multimedia Telephony Sessions.
4.6 Release of Multimedia Telephony Sessions.
4.7 Supplementary Services.
4.8 Interworking with CS Networks.
5 Media Flow (Daniel Enstr¨om, Tomas Frankkila, Per Fr¨ojdh, Janne Peisa, Krister Svanbro).
5.1 Media Coding.
5.2 Protocols.
5.3 Media Transport Processing.
5.4 Media Control.
5.5 Header Compression.
5.6 Radio Realization.
5.7 Interworking.
5.8 Media Configurations for Multimedia Telephony.
6 Security (Rolf Blom, Yi Cheng, Vesa Lehtovirta, Karl Norrman, G¨oran Schultz).
6.1 IMS Security Overview.
6.2 Access Domain Security.
6.3 IMS Security Mechanisms.
6.4 Outlook.
7 Performance (Tomas Frankkila, Janne Peisa, Per Synnergren).
7.1 Application Models.
7.2 Service Performance Requirements. 
7.3 Capacity.
7.4 Coverage.  
7.5 Transport Characteristics.
7.6 Service Quality.
7.7 Call Setup Delays.
8 Other IMS Communication Services (Per Synnergren).
8.1 3GPP CSICS.
8.2 OMA PoC.
8.3 OMA Instant Messaging.
8.4 Presence and List Management.
9 Summary (Per Synnergren, Janne Peisa).
Appendix Additional Simulation Results.
A.1 Delay Scheduler.
A.2 Max-CQI Scheduler.
A.3 Proportional-Fair Scheduler.
A.4 Round-Robin Scheduler.
References.
Index.