Employee Well-being Support: A Workplace Resource
ISBN: 978-0-470-05900-5
368 pages
December 2008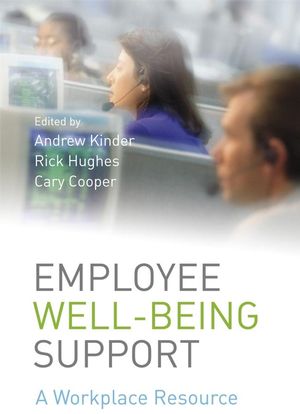 Employees have a set of needs as part of the 'psychological contract' of employment. However, organizations operate for a reason and they too have agendas and needs. It is how the two come together that determines the capacity for good human relations and optimum productivity. Employee Well-being Support is an edited collection of expert contributions that explores all key issues in this increasingly critical area.
See More
About the Editors.
List of Contributors.
Foreword – The Fourth Wave.
Acknowledgements.
Introduction: Adapting to Change (Andrew Kinder, Rick Hughes and Cary L. Cooper).
Part 1 Organisational Behaviour Issues and Well-being.
1 In Consideration of a Toxic Workplace: a Suitable Place for Treatment (Michael Walton).
2 Leading to a Healthy Workplace (E. Kevin Kelloway, Mike Teed and Matt Prosser).
3 Understanding and Improving Psychological Well-being for Individual and Organisational Effectiveness (Ivan Robertson and Gordon Tinline).
4 Employee Well-being: the Heart of Positive Organizational Behavior (Debra L. Nelson, Laura M. Little and M. Lance Frazier).
5 Employee Support Strategies in Large Organisations (Steve Boorman).
6 Coaching Skills for Managers (Gladeana McMahon).
7 Behaviour Risk Management (Sharon Clarke).
8 Positive Coping Strategies at Work (Philip Dewe).
9 Organisational Duty of Care: Workplace Counselling as a Shield against Litigation? (Peter Jenkins).
10 Managing Diversity (David Weaver).
11 Understanding Mental Health – a Guide for All Employees(Andrew Buckley).
Part 2 Responding to Specific Organisational Challenges.
12 Organisational Responses to Traumatic Incidents (Alison Dunn).
13 Managing Suicide and Sudden Death within Organisations(Andrew Kinder and Emily Duval).
14 Bullying and Mistreatment at Work: How Managers May Prevent and Manage Such Problems (Stale Einarsen and Helge Hoel).
15 Counselling and Coaching in Organisations: An Integrative Multi-Level Approach (Vanja Orlans).
16 What Makes a Good Employee Assistance Programme? (Mark A. Winwood and Stephanie Beer).
17 Tackling the Macho Culture (Mark Brayne and Neil Greenberg).
Part 3 Mental Health, Emotions and Work.
18 Rehabilitation of Mental Health Disabilities (David Wright).
19 An Organisational Approach to the Rehabilitation of Employees Following Stress-Related Illness (Louise Thomson and Jo Rick).
20 Stress Management for Employees: an Evidence-based Approach (Stephen Palmer and Kristina Gyllensten).
21 Perspectives on Managing Workplace Conflict (Tony Buon).
22 Whose Agenda Does Workplace Counselling Serve? (Rick Hughes).
23 The Emergence of Coaching as a New Profession and Its Global Influence (Patrick Williams).
24 Mentoring and Employee Well-being (David Clutterbuck).
25 Building Resilience – An Organisational Cultural Approach to Mental Health and Well-being at Work: A Primary Prevention Programme (Derek Mowbray).
Index.
See More
"This is an extremely well-researched and referenced work that contains a wealth of information covering organisational and mental health issues in the workplace." (
Nursing Management
, July 2008)
"Would be an excellent reference book for anyone studying this topic in-depth…Good value for a detailed guide to employee wellbeing." (Nursing Standard, June 2008)
See More
Learn more about