E-book
Applied Tribology: Bearing Design and Lubrication, 2nd Edition
ISBN: 978-0-470-05944-9
578 pages
April 2008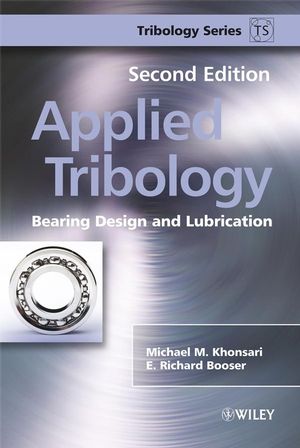 Applications of tribological technology in bearings are wide and varied in industries ranging from aerospace, marine and automotive to power, process, petrochemical and construction. Applied Tribology, 2nd edition not only covers tribology in bearings but demonstrates the same principles for other machine components, such as piston pins, piston rings and hydrostatic lifts, as well as in more recent technologies such as gas bearings in high-speed machines and computer read-write devices.
Maintaining a balance between theoretical analysis and practical experience with co-authors from academia and industry, this new edition is significantly revised and expanded with new material. Features include;
• Two brand new chapters on seals and bearing failure modes and bearing health monitoring techniques
• Coverage of new developments in full-film, dry, and partial lubrication; gas bearings; and ball and roller bearings
• Design guides based on full Reynolds equation that enable accurate prediction of load capacity, power loss, temperature rise
• Comprehensive presentation of important design factors involving material and lubricants.
• State-of-the-art presentation and up-to-date references of pertinent scientific and applied topics in tribology
• Numerous examples that reinforce the understanding of concepts and provide procedures for the design and performance analysis of components
Applied Tribology, 2nd edition provides a valuable and authoritative resource for mechanical engineering professionals working in a wide range of industries with machinery including turbines, compressors, motors, electrical appliances & electronic components. Senior and graduate students in mechanical engineering will also find it a useful text and reference.
See More
Series Preface.
Preface.
Part I: General Considerations.
1 Tribology – Friction, Wear, and Lubrication.
2 Lubricants and Lubrication.
3 Surface Texture and Interactions.
4 Bearing Materials.
Part II: Fluid-Film Bearings.
5 Fundamentals of Viscous Flow.
6 Reynolds Equation and Applications.
7 Thrust Bearings.
8 Journal Bearings.
9 Squeeze-Film Bearings.
10 Hydrostatic Bearings.
11 Gas Bearings.
12 Dry and Starved Bearings.
Part III: Rolling Element Bearings.

13 Selecting Bearing Type and Size.
14 Principles and Operating Limits.
15 Friction, Wear and Lubrication.
Part IV: Seals and Monitoring.
16 Seal Fundamentals.
17 Condition Monitoring and Failure Analysis.
Appendix A Unit Conversion Factors.
Appendix B Viscosity Conversions.
Index.
See More
Finance and banking professionals, MBA and PhD students, professors for adoption.
See More
More in this series