E-book
The Psychology of Coaching, Mentoring and Learning
ISBN: 978-0-470-06044-5
264 pages
April 2007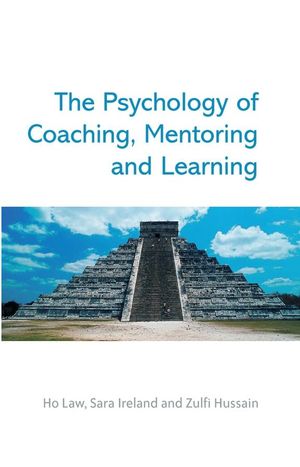 The first
UK
book to address coaching psychology as a discipline,
The Psychology of Coaching, Mentoring and Learning
provides a thorough understanding of the rationale, theory and practice of coaching and mentoring from a psychological perspective. Ho Law, Sara Ireland and Zulfi Hussain unify the psychology underpinning this diverse and expanding field, then demonstrate how both individuals and organisations can easily apply the principles and techniques of coaching and mentoring. A wide range of tools and exercises are provided to implement the techniques described.
See More
About the Authors.
Foreword.
Preface.
Acknowledgements.
Chapter 1. Introduction.
Chapter 2. The Coming of Age: Coaching, Mentoring and Positive Psychology.
Chapter 3. Philosophy and Theories of Psychology Applicable to Coaching and Mentoring: Learning Processes/Theories.
Chapter 4. Definitions: Coaching Psychology, Coaching, Mentoring and Learning.
Chapter 5. Becoming a Learning Organisation and Learning Community through Coaching and Mentoring.
Chapter 6. Developing a Universal Framework for Diversity, Coaching and Mentoring.
Chapter 7. Techniques and Tools.
Chapter 8. Continuing Development, Learning Resources and Practical Exercises.
Chapter 9. Case Studies.
Chapter 10. Evaluation.
Chapter 11. Conclusion, Discussion and Future Work.
References.
Index.
See More
Ho Law
, Chartered Occupational Psychologist, the Managing Director of Empsy Ltd and Research & Technical Director of Morph Group Ltd, is an international practitioner in psychology, coaching, mentoring and psychotherapy. He is a founder member of the British Psychological Society's Special Group in Coaching Psychology (SGCP) with strategic responsibility for the ethics of coaching psychology, and a consulting editor of
The Coaching Psychologist
. He is currently an honorary lecturer at Liverpool John Moores University and an International Advisory Board member of the Coaching Psychology Unit, City University London.
He has published over 40 papers and delivered over 100 workshops and conference seminars in the UK and abroad including Barcelona, Brussels, Hong Kong, Paris, Stockholm, and Zurich. He received numerous outstanding achievement awards including the Local Promoters for Cultural Diversity Project in 2003, the Positive Image (Business Category) in 2004, and Management Essentials Participating Company 2005.
Sara Ireland, is a Chartered Occupational Psychologist with a background in HR. She is the Innovation and Applications Director of Morph Group Ltd. She is a founder member of SGCP and has UK and international management consultancy and organisation development experience, as well as working as an Executive coach and programme co-ordinator.
Zulfi Hussain, Business and Marketing Director of Morph Group Ltd, is also Chief Executive, board member and director of a range of businesses and charities in the UK and across the world. He is chair of the European Mentoring and Coaching Council (2006). Zulfi received the Directors of the Year (2005) Award from the Institute of Directors.
See More