Small Gardens
ISBN: 978-0-470-06555-6
Paperback
160 pages
June 2008
US $24.95

Add to Cart
This price is valid for United States. Change location to view local pricing and availability.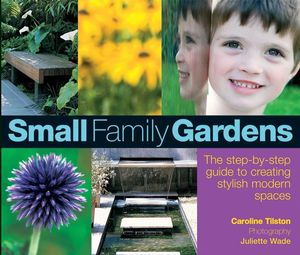 Introduction.
1. Minimalist.
Design Creating a minimalist garden.
Plants Easy Plants.
Feature Walls and Boundaries.
2. Mediterranean Modern.
Design Employing a garden designer.
Plants Trees for Small Gardens.
Feature Seating areas and furniture.
3. Jungle.
Design To lawn or not to lawn.
Plants Jungle Plants.
Feature Water.
4. Sophisticated Rooms.
Design Slopes, steps and retaining walls.
Plants Colour.
Feature Floors.
5. Country.
Design How to make decking work.
Plants Gardening with children.
Feature Willow structures.
6. Silver, Green & White.
Design Dividing the garden.
Plants Containers.
Feature Design our own garden.
7. Water Light & Walls.
Design The outside room.
Plants New Perennial planting.
Feature Lighting.
8. Height & Depth.
Design Growing food.
Plants Vertical planting.
Feature Play equipment.
9. Exotic Heat Island.
Design Small wildlife ponds.
Plants Tropical plants.
Feature Hideaways.
10. Rendered Walls.
Design Using free-standing walls.
Plants Shadows and Shapes.
Feature Rendered Walls.
11. Roof Garden.
Design Roof gardens.
Plants Plants for screening.
Feature Green roofs.
12. Oriental.
Design Extensions.
Plants Plants for shade.
Feature Sculpture.
13. Wildlife Garden.
Design Encouraging Wildlife.
Plants Creating a wildflower meadow.
Feature Things to attract wildlife.
14. Soft & Scented.
Design Designing a city garden.
Plants Scented Plants.
Feature Finishing touches.
List of Contacts.