Simple Computer Tune-up: Speed Up Your PC
ISBN: 978-0-470-06855-7
264 pages
January 2007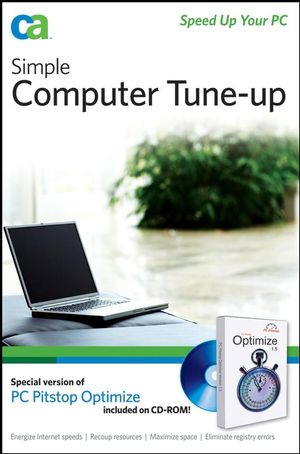 Forgoing the "techie-talk," CA explains how PC Pitstop Optimize performs four main functions: it removes "junk" files to free up disk space, adjusts Internet settings for better performance, removes invalid registry keys, and adjusts several registry settings that can
improve overall performance
Also shows how PC Pitstop Optimize can revitalize system performance, regain hard drive space, rev up an Internet connection, and fix registry errors
CA will include its complete PC Pitstop Optimize, valued at $30.00, free with this book (no renewal needed)
Note: CD-ROM/DVD and other supplementary materials are not included as part of eBook file.
See More
Acknowledgments.
Introduction.
Part 1: Understanding the Issues and Solutions.
Chapter 1: Causes of Poor PC Performance.
Chapter 2: Understanding PC Pitstop Optimize.
Part 2: Optimizing Your PC.
Chapter 3: Installing PC Pitstop Optimize.
Chapter 4: Performing a Scan.
Chapter 5: The Optimization.
Chapter 6: Other Ways to Optimize Your PC.
Chapter 7: Updating PC Pitstop Optimize.
Chapter 8: Troubleshooting PC Pitstop Optimize.
Part 3: Bonus Material.
Chapter 9: Solve Common Problems with Windows.
Chapter 10: Customizing Windows for Your Personal Preferences.
Chapter 11: Fix Internet Issues.
Chapter 12: Analyze Your PC.
Chapter 13: Upgrade Your PC.
Chapter 14: Installing Peripherals.
Chapter 15: Troubleshooting Computers.
Chapter 16: Buying a New PC.
Index.
See More
CA Founded in 1976, CA is a global company with 150 offices in more than 45 countries, and revenues of $3.5 billion in 2005. With over 15,000 employees, CA provides products and support to more than 98% of Fortune 1000® companies, as well as government entities, educational institutions, and thousands of other companies in diverse industries worldwide. CA products cover systems, networks, security, storage, and databases.
See More