Patty's Industrial Hygiene, Volume 3, Physical and Biological Agents , 6th Edition
ISBN: 978-0-470-07486-2
649 pages
December 2010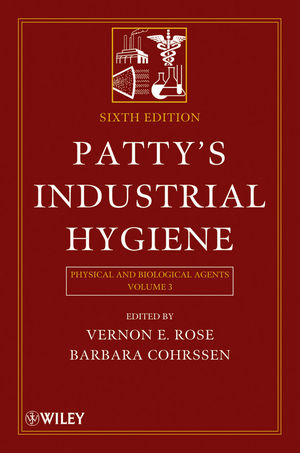 Since the first edition in 1948,
Patty's Industrial Hygiene and Toxicology
has become a flagship publication for Wiley. In the course of its nearly six decades in print, it has evolved into a standard reference for the fields of occupational health and toxicology. The volumes on Industrial Hygiene are cornerstone reference works for chemists, engineers, toxicologists, and occupational safety personnel.
Volume 3 covers Recognition and Evaluation of Physical Agents and Recognition of Biohazards.  Almost all of the chapters in the section Recognition and Evaluation of Physical Agents are new.  Three new chapters are in the section on Biohazards:  Bioaerosols, Bloodborne Pathogens, and Tuberculosis and Other Mycobacteria Communicable Diseases.  These subjects are increasing in importance to industrial hygienists.
See More
PART V PHYSICAL AGENTS.
29 Ionizing Radiation (Herman Cember, Ph.D., PE, CHP (Deceased) and Thomas E. Johnson, Ph.D., CHP).
30 Nonionizing Radiation: Lasers (David H. Sliney, Ph.D.).
31 Nonionizing Radiation: Broadband Optical (Margaret Levin Phillips, Ph.D., CIH and Allen "Scotty" Butler, MA CIH, CSP, CHMM).
32 Nonionizing Radiation: Radiofrequency (Robert Timothy Hitchcock, CIH, CLSO).
33 Nonionizing Radiation: Extremely Low Frequency (Dave Baron, PE).
34 Industrial Noise and Hearing Conservation (David C. Byrne, MS, CCC-A; Kevin L. Michael, Ph.D.; and Jennifer B. Tufts, Ph.D.).
35 Physiological Effects of Altered Barometric Pressure (Claude A. Piantadosi, MD).
36 Vibration (Christopher M. Nelson, BSc (Hons), Ph.D., MIOA).
37 Cold Stress (Ingvar Holmér, Ph.D.).
38 Heat Stress (Michael D. Larranaga, Ph.D., PE, CIH, CSP and Thomas E. Bernard, Ph.D., CIH).
39 Occupational Ergonomics: Past, Present, and Future (Susan Kotowski, MS, Ph.D., AEP; Kermit Davis, Ph.D., CPE; and Amit Bhattacharya, Ph.D., CPE).
PART VI BIOLOGICAL AGENTS.
40 Biohazards and Occupational Disease (Patricia A. Heinsohn, Ph.D., MPH, CIH).
41 Control of Biohazards (Patricia A. Heinsohn, Ph.D., MPH, CIH).
42 Airborne Infectious Diseases (Tara N. Palmore, MD and Kent A. Sepkowitz, MD).
Index.
See More