Immunology: A Short Course, 6th Edition
ISBN: 978-0-470-08158-7
416 pages
January 2009, Wiley-Blackwell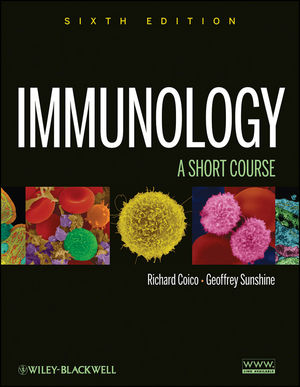 Immunology: A Short Course, Sixth Edition
introduces all the critical topics of modern immunology in clear and succinct yet comprehensive fashion. The authors offer a uniquely balanced coverage of classical and contemporary approaches, basic and clinical aspects. As with the previous editions, the strength of the text is in a complete review of modern immunology without burdening the reader with excessive data or theoretical discussions. Each chapter is divided into short, self-contained units that address key topics illustrated by uniformly drawn, full-color illustrations, many brand new to this edition. The sixth edition of this successful textbook newly covers:
Toll-like receptors, their ligands and intracellular activation pathways
The key role of activation induced cytidine deaminase (AID) in somatic hypermutation and class switch recombination.
The autoimmune regulator (AIRE) gene in self-tolerance and autoimmunity
T and B cell activation and the immunological synapse, as well as characterization and mechanisms of action of T regulatory cells

The companion website at www.wiley.com/college/coico features problem sets, quizzes, and a list of relevant internet resources.
Praise for the previous edition:
"This book is clearly a precious resource for undergraduate, graduate and medical students alike… For those who need an introduction to the fascinating world of immunology, this book should most certainly spark the interest."
ANNALS OF BIOMEDICAL ENGINEERING
"… an excellent beginner's guide… the authors have done a terrific job of providing an overview of the field."
YALE JOURNAL OF BIOLOGY AND MEDICINE
See More
About the Authors, xvii
Contributors, xviii
Preface and Acknowledgments, xix
1 OVERVIEW OF THE IMMUNE SYSTEM, 1
2 ELEMENTS OF INNATE AND ACQUIRED IMMUNITY, 11
3 IMMUNOGENS AND ANTIGENS, 29
4 ANTIBODY STRUCTURE AND FUNCTION, 41
5 ANTIGEN–ANTIBODY INTERACTIONS, IMMUNE ASSAYS, AND EXPERIMENTAL SYSTEMS, 61
6 THE GENETIC BASIS OF ANTIBODY STRUCTURE, 81
7 BIOLOGY OF THE B LYMPHOCYTE, 93
8 ROLE OF THE MAJOR HISTOCOMPATIBILITY COMPLEX IN THE IMMUNE RESPONSE, 107
9 BIOLOGY OF THE T LYMPHOCYTE, 125
10 ACTIVATION AND FUNCTION OF T AND B CELLS, 141
11 CYTOKINES, 165
12 TOLERANCE AND AUTOIMMUNITY, 183
13 COMPLEMENT, 205
14 HYPERSENSITIVITY: TYPE I, 221
15 HYPERSENSITIVITY: TYPES II AND III, 237
16 HYPERSENSITIVITY: TYPE IV, 247
17 IMMUNODEFICIENCY DISORDERS AND NEOPLASIAS OF THE LYMPHOID SYSTEM, 255
18 TRANSPLANTATION, 285
19 TUMOR IMMUNOLOGY, 299
20 RESISTANCE AND IMMUNIZATION TO INFECTIOUS DISEASES, 313
Glossary, 337
Appendix: Partial List of CD Antigens, 365
Index, 369
See More
Dr. Richard Coico
is Professor and Chairman of the Department of Microbiology and Immunology and Dean at the City University of New York Medical School. He directs CUNY Microbiology and Immunology courses and also participates directly in the teaching of immunology to graduate students. 
Dr. Sunshine is a Senior Scientist at the Health Effects Institute in Cambridge, Massachusetts. He is also a lecturer in the Department of Pathology at Tufts University School of Medicine.
See More
Learn more about