The WorldatWork Handbook of Compensation, Benefits and Total Rewards: A Comprehensive Guide for HR Professionals
ISBN: 978-0-470-08580-6
864 pages
May 2007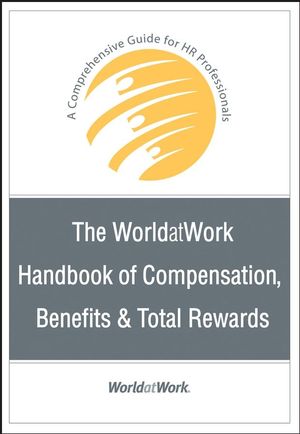 Praise for The WorldatWork Handbook of Compensation, Benefits & Total Rewards
This is the definitive guide to compensation and benefits for modern HR professionals who must attract, motivate, and retain quality employees. Technical enough for specialists but broad in scope for generalists, this well-rounded resource belongs on the desk of every recruiter and HR executive. An indispensable tool for understanding and implementing the total rewards concept, the WorldatWork Handbook of Compensation, Benefits, and Total Rewards is the key to designing compensation practices that ensure organizational success.
Coverage includes:
Why the total rewards strategy works
Developing the components of a total rewards program
Common ways a total rewards program can go wrong
Designing and implementing a total rewards program
Communicating the total rewards vision
Developing a compensation philosophy and package
FLSA and other laws that affect compensation
Determining and setting competitive salary levels
And much more
See More
Introduction: Redefining Employee Rewards
Anne C. Ruddy, CCP, CPCU, President, WorldatWork xx
About the Author xxii
1. Total Rewards: Everything That Employees Value in the Employment Relationship 1
Broadening the Definition of Total Rewards 2
Evolution of the WorldatWork Total Rewards Model 5
Exploring the Key Areas 6
2. Why the Total Rewards Approach Works 14
The Top Five Advantages of a Total Rewards Approach 15
3. Developing a Total Rewards Strategy 18
The Total Rewards Blueprint 18
Five Common Ways a Total Rewards Strategy Can Go Astray 19
Crystallizing the Spirit of Your Total Rewards Plan 20
Issues That a Total Rewards Strategy Should Address 24
The Bottom Line 27
4. Designing a Total Rewards Program 28
Step 1: Analyze and Assess 28
Step 2: Design 31
Step 3: Develop 34
Step 4: Implement 38
Step 5: Communicate 40
Step 6: Evaluate and Revise 46
5. Communicating Total Rewards 53
A Communications Approach with Oomph 54
The Power of Communication 54
Top Management Buy-In 55
The Bottom Line 56
Communication Fundamentals 56
Models of Communication 57
The Communication Process 58
Communicating the Program's Richness 64
Special Situations 69
Media Considerations 71
A Case Study: Southern Company 71
Total Rewards Branding 72
Media Choices 73
Implementation 81
Planning a Campaign 81
Managing a Campaign 82
Measuring Return on Investment 85
Critical Outcomes 86
6. Compensation Fundamentals 87
The Foundation: A Compensation Philosophy 87
Characteristics of Compensation Programs 90
Elements of Compensation 91
The Basics: Base Pay 92
Job Analysis 92
Job Evaluation 94
Market Analysis 97
Salary Ranges 98
Competencies 101
Incentive Pay 102
Design Elements 102
Reasons for Failure 104
Management of Pay for Performance 105
Effective Compensation Management 107
7. Regulatory Environment: The FLSA and Other Laws That Affect Compensation Practices 109
Fair Labor Standards Act of 1938 109
Sherman Antitrust Act of 1890 135
Davis-Bacon Act of 1931 137
National Labor Relations Act 137
Walsh-Healey Act 137
Service Contract Act 138
Anti-Discrimination Laws 138
8. Market Pricing 143
Where Do You Begin? 144
Job Analysis 144
Job Documentation and Job Descriptions 145
Job Evaluation 145
Benchmark Jobs 145
Collecting the Right Data 146
Decision Factors in Collecting Market Data 146
Know the Market: Half the Battle 147
Gathering Valid Data 148
Data Sources 149
Capturing Competitive Market Data for High-Demand Jobs 151
Crunching Numbers 151
Options for Measuring Central Tendency 152
Percentiles 153
Aging Data to a Common Point in Time 153
Weighting Market Data across Survey Sources 154
Developing Market Index of Competitiveness 154
Market Blips—A Word of Caution 156
Approaches to Program Costs 157
How to Keep Employees in the Loop 158
Opening the Pay Dialogue 160
9. Salary Surveys: A Snapshot 161
The Big Picture 161
Definition and Purposes 163
Benchmark Surveys 164
Job Matching 168
Job Title and Characteristics 170
Survey Frequency 172
Stretching the Salary Survey Budget 173
Behind the Scenes 173
The Compensation Practitioner's Role 175
Salary Survey Guidelines 177
10. Job Analysis, Documentation, and Evaluation 180
Job Documentation 182
What Is a Job? 184
Job Analysis: A Step-by-Step Process 185
Job and Work Analysis: Weighing Costs and Benefi ts 204
Job Evaluation 205
Internal Job Evaluation—Nonquantitative Methods 205
Internal Job Evaluation—Quantitative Methods 208
Internal Job Evaluation—Point Factor 213
11. Base Pay Structures 223
Pay Structures 223
General and Specific Factors Affecting Pay Structures 224
Anatomy of a Pay Structure 226
Pay Ranges and Range Spreads 226
Midpoints 229
Range Penetration 230
Midpoint Progression 231
Pay Grades 232
Developing a Pay Structure 233
Key Steps in Designing an Effective Pay Structure 237
Pitfalls and Precautions 247
Broadbanding 248
Starting Rates of Pay 249
Increases to Base Rates of Pay 249
Merit Pay Considerations 252
Performance Appraisal Considerations 252
Maintaining and Auditing the Pay Program 253
Keys to Successful Pay Program Maintenance 253
Ongoing Administrative Activities 254
Pay Program Audits 254
12. Sales Compensation Fundamentals 257
Working with the Sales Organization 257
Six Areas of Sales Compensation Plan Involvement 260
Learning a New Language 265
Compensation Tied to Total Rewards 266
Variable Pay Plan Categories 268
Sales Compensation Philosophy 269
Guiding Principles 270
Eligibility for Sales Compensation 270
Timing Considerations 281
Alternative Mechanics 282
Understanding How Sales Compensation Fits 286
13. Executive Compensation: An Introduction 287
Owner-Manager Conflict: Agency Theory 288
Other Theories That Explain and Influence
Executive Compensation 289
External Influences on the Executive Compensation Package 291
Sources of Data on Executive Compensation 292
Components of Executive Compensation 293
Making the Offer Attractive 297
Providing the Proper Incentives 297
Designing the Contract to Retain the Executive 299
Restrictions 299
Minimizing Costs to the Corporation 300
14. Linking Pay to Performance 311
Determining What to Reward 312
Documenting Performance Standards 313
Establishing a Merit Budget 315
Determining Budget Size 316
Determining Budget Allocation 316
Setting Merit Pay Policy 317
Policy Decisions 317
Policy Implementation 320
Managing a Merit Pay Plan 324
Training 325
Perception of Fairness 325
How Computer Technology Can Assist Administration 326
Evaluating a Merit Pay Plan 326
Merit Pay Advantages and Disadvantages 327
Linking Results and Competencies to Business Strategy 328
Determining the Performance Management Cycle 330
Performance Rating Approaches 332
Multirater Assessment 334
Linking Performance Management and Pay Delivery 335
15. Cash Bonus Plans and Recognition Programs 338
What Is a Sign-on Bonus? 338
Size of Sign-on Bonus 339
Claw Back Clause 340
Aligning the Sign-on Bonus with Total Rewards 341
Executive Sign-on Bonus 341
Potential Pitfalls 342
Communicating the Sign-on Bonus 343
What Is a Referral Bonus? 343
Eligibility 344
Timing of Cash Award Distribution 344
Promoting an Employee Referral Program 345
What Is a Spot Bonus? 348
Size of Spot Bonus 349
Spot Recognition Program Guidelines 349
How to Effectively Use Spot Recognition 351
Potential Pitfalls 352
Conducting the Recognition Event 352
Documenting Recognition 354
Communicating the Spot Program 354
Legal and Tax Requirements 355
What Is a Retention Bonus? 356
Building a Business Case 357
Retention Bonus Q&A 361
Potential Pitfalls 363
Communicating the Retention Plan 364
Cash Bonuses in the Total Rewards Mix 364
16. Equity-Based Rewards 366
Business Structures 366
Compensation Plans Using Equity 367
Benefits Plans Using Equity 368
Equity Terminology 368
Evolution of Equity-Based Rewards 369
Evolution of Stock Options 369
Evolution of Benefits Plans Using Equity 370
Why Equity Is Used to Reward Employees 370
Legal, Tax, and Accounting Issues 371
Impact of Legislation on Equity-Based Rewards Programs 371
Forms of Taxation—Employee 372
Forms of Taxation—Employer 374
Accounting Basics—Financial Statements 374
Accounting for Equity-Based Rewards 375
Overview of Stock Options 378
Types of Stock Options 380
Types of Stock Awards and Alternatives 382
The Use of Equity in Benefits Plans 391
Employee Stock Purchase Plan (ESPP) 391
Defined Contributions Plans 393
17. Employee Benefits Basics 397
Historical Perspective of Benefits 397
Elements of Benefits 399
Benefits Plan Objectives 401
Government Regulation of Benefits Plans 403
Statutory Benefits 407
Health and Welfare Plans 411
Health Care 412
Disability Income 416
Survivor Benefits 417
Flexible Benefits 418
Retirement Plans 418
Pay for Time Not Worked Benefits 422
Other Benefits 423
The Importance of Effective Communication 424
Projected Benefits Trends 427
18. Benefits Compliance: An Overview for the HR Professional 428
The Employee Retirement Income Security Act of 1974 (ERISA) 428
The Internal Revenue Code 444
The Economic Growth and Tax Relief Reconciliation Act of 2001 (EGTRRA) 451
19. Worker Privacy, Unpaid Leave, and Other Benefit-Related Laws That Protect the Individual 458
The Health Insurance Portability and Accountability Act of 1996 (HIPAA) 458
The Newborns' and Mothers' Health Protection Act 465
The Mental Health Parity Act of 1996 466
The Women's Health and Cancer Rights Act of 1998 467
Family and Medical Leave Act of 1993 (FMLA) 468
Nondiscrimination Laws 474
Uniformed Services Employment and
Re-employment Rights Act of 1994 (USERRA) 478
Worker Adjustment and Retraining Notification Act of 1988 (WARNA) 480
In Closing 481
20. Planning Benefits Strategically 483
Internal and External Influences on Strategy 483
The Strategic Planning Process 486
Approaches to Strategic Benefits Planning 487
Who's Managing the Strategic Benefits Planning Process? 490
Design and Implementation 491
Outcomes of Strategic Benefits Planning 496
Evaluation 497
Beyond the Strategic Plan 499
21. Implementing Flexible Benefits 500
Types of Flexible Benefits Plans 500
Flexible Benefits Plan Design 502
Pricing Flexible Benefits Options 507
Tax Issues and Employer Objectives 509
Communication Approaches 511
Annual Enrollment Process 512
Ongoing Enrollment 514
Annual Re-enrollment 514
Spending Account Administration 515
Legal Issues 515
22. Work-Life Effectiveness 518
Changing Demographics 519
The Evolution of Work-Life Initiatives 520
Work-Life Effectiveness: A Definition 520
Why Companies Address Work-Life Issues 522
Ways to Address Work-Life Issues 528
Supportive Work Environment 530
Company Culture 531
Work-Life Strategy 532
How to Begin 534
Source of Commitment 535
Anticipating Problems 536
Developing and Appropriate Marketing Strategy 536
Putting it All Together: Checklist 536
Calculating the Return on Investment 538
The Future of Work-Life Effectiveness 539
23. Caring for Dependents 541
Child-Care Issues 541
Direct Child-Care Services 543
Assessing Child-Care Needs 548
On-Site and Near-Site Child-Care Centers 549
Consortium Child-Care Centers 550
Back-Up (Emergency) Child Care 551
Care for Sick Children 552
School-Age Child Care 553
24-Hour (Odd-Hour) Care 553
Other Child-Care Options 554
Elder-Care Issues 555
Description of Elder Care 557
Cost of Elder Care and the Needs of Working Caregivers 557
Employers' Responses to Employees' Elder-Care Needs 558
Information and Support 559
Policies 562
Financial Assistance/Financial Planning 563
Direct Elder-Care Services 563
Implementing a New Elder-Care Program 564
Evaluating an Elder-Care Program 565
The Future of Corporate Elder Care 565
24. Culture at Work 566
Defining Culture 567
Importance of Culture 576
Matching Culture with Strategic Goals 577
Impact of Culture on Total Rewards Programs 578
Notes 585
Total Rewards Glossary 589
Handbook References 821
WorldatWork Bibliography 823
Index 827
See More
WorldatWork, founded in 1955, is the world's leading not-for-profit professional association dedicated to knowledge leadership in total rewards, compensation, benefits, and work-life. WorldatWork focuses on human resources disciplines associated with attracting, motivating, and retaining employees. Besides serving as the membership association of the professions, the WorldatWork familyof organizations provides education, certification (Certified Compensation Professional/CCP®, Certified Benefits Professional®/CBP, Global Remuneration Professional/GRP®, and Work-Life Certified Professional/WLCP), publications, knowledge resources, surveys, conferences, research, and networking.
See More
Buy Both and Save 25%!
The WorldatWork Handbook of Compensation, Benefits and Total Rewards: A Comprehensive Guide for HR Professionals (US $162.50)
-and- e-Learning by Design, 2nd Edition (US $79.95)
Total List Price: US $242.45
Discounted Price: US $181.83 (Save: US $60.62)
Cannot be combined with any other offers. Learn more.