Nonprofit Law and Governance For Dummies
ISBN: 978-0-470-08789-3
364 pages
May 2007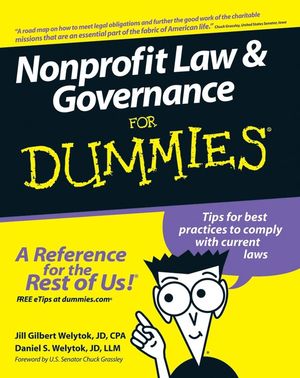 As the number and size of nonprofit organizations continues to grow, NFPs are coming under ever-increasing government scrutiny. Soon Congress will require that nonprofits comply with rigorous accounting and governance standards very similar to those set forth for for-profits in the Sarbanes-Oxley Act.
If you work for a nonprofit and are concerned about meeting impending changes to tax and finance standards governing NFPs this book is for you. In simple, straight-forward language, this guide demystifies the often perplexing world of nonprofit governance in the age of Sarbanes-Oxley. Author, Jill Gilbert Welytok, an attorney who heads the Sarbanes-Oxley division of a major Midwest law firm, walks you step-by-step through the process of evaluating your governance structures. She arms you with tips and strategies for adopting uniform standards under current governance and tax laws, while preparing you for any upcoming changes. She shows you how to protect your tax status and reassure donors and volunteers while staying true to your organization's mission. And she fills you in on what you need to know to:
Comply with state laws and regulations
Get and keep tax–exempt status
Avoid lawsuits and other legal landmines
Handle the media
Anticipate future trends
Make sense of the Sarbanes–Oxley act
Including sample nonprofit bylaws and a complete audit committee report, Nonprofit Law & Governance for Dummies, Second Edition is an indispensable survival tool for 21st century nonprofits.
See More
Foreword.
Introduction.
Part I: Nonprofits in the 21st Century.
Chapter 1: Defining and Scrutinizing the Nonprofit Sector.
Chapter 2: Regulating Nonprofits: Who's in Charge?
Chapter 3: The State of the Nation's Nonprofits.
Part II: The Nuts and Bolts of Nonprofits.
Chapter 4: Starting Up and Staying True to the Mission.
Chapter 5: Getting Tax-Exempt Status.
Chapter 6: Paying Nonprofit Directors, Officers, Staff, and Volunteers.
Part III: Structuring a Nonprofit to Meet Its Mission.
Chapter 7: Filing the Dreaded Form 990.
Chapter 8: The Responsibilities of the Board.
Chapter 9: Creating the Right Committee Structure.
Chapter 10: All About Audit Committees.
Part IV: Some Special Types of Nonprofits.
Chapter 11: Forming a Solid Foundation.
Chapter 12: Capitalizing on Cooperatives.
Part V: Legal Landmines.
Chapter 13: Existing in a World of Sarbanes-Oxley.
Chapter 14: Some Sticky Accounting Issues That All Nonprofits Face.
Chapter 15: Communicating Comfortably with the IRS.
Part VI: The Part of Tens.
Chapter 16: More Than Ten Web Sites Every Nonprofit Should Visit.
Chapter 17: Ten Questions to Ask Before Agreeing to Join a Nonprofit Board.
Chapter 18: Ten Ways to Lose Tax-Exempt Status.
Chapter 19: Ten Tips for Dealing with the Media.
Part VII: Appendixes.
Appendix A: Sample Nonprofit Bylaws.
Appendix B: Sample Audit Committee Report.
Appendix C: State Regulatory Authorities for Nonprofits.
Appendix D: Selections from the Revised Model Nonprofit Corporation Act (1987).
Index.
See More
Jill Gilbert Welytok, JD, CPA, LLM,
practices in the areas of corporate law, nonprofit law, and intellectual property. She is the founder of Absolute Technology Law Group, LLC (www.abtechlaw.com). She went to law school at DePaul University in Chicago, where she was on the Law Review, and picked up a Masters Degree in Computer Science from Marquette University in Wisconsin where she now lives. Ms. Welytok also has an LLM in Taxation from DePaul. She was formerly a tax consultant with the predecessor firm to Ernst & Young. She frequently speaks on nonprofit, corporate governance–taxation issues and will probably come to speak to your company or organization if you invite her. You may e-mail her with questions you have about Sarbanes-Oxley or anything else in this book at jwelytok@abtechlaw.com. You can find updates to this book and ongoing information about SOX developments at the author's website located at www.abtechlaw.com.
Daniel S. Welytok, JD, LLM, is a partner in the business practice group of Whyte Hirschboeck Dudek S.C., where he concentrates in the areas of taxation and business law. Dan advises clients on strategic planning, federal and state tax issues, transactional matters, and employee benefits. He represents clients before the IRS and state taxing authorities concerning audits, tax controversies, and offers in compromise. He has served in various leadership roles in the American Bar Association and as Great Lakes Area liaison with the IRS. He can be reached at dsw@whdlaw.com.
See More