Textbook
So You Want to Be a Chef?: Your Guide to Culinary Careers, 2nd Edition
ISBN: 978-0-470-08856-2
252 pages
June 2008, ©2009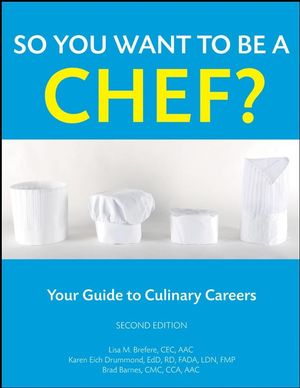 So You Want to Be a Chef? is a complete guide to traditional and non traditional culinary careers. The text features revealing interviews with industry professionals, and analysis of over seventy-five jobs. The new Second edition includes descriptions of daily job duties, hours, working conditions, qualifications, promotion opportunities, and possible career paths. This new text is well suited for the culinary student who is about to embark on their culinary education and career exploration.
See More
Introduction.
PART 1. FEEDING FRENZY.
Chapter 1. Culinary Careers in Restaurants.
Chapter 2. Culinary Careers in Hotels.
Chapter 3. Culinary Careers in Clubs.
Chapter 4. Culinary Careers in Catering.
Chapter 5. Culinary Careers in Supermarkets.
Chapter 6. Culinary Careers in Cruise Lines.
PART 2. INTRODUCTION TO FEEDING THE MASSES.
Chapter 7. Culinary Careers in Business and Industry.
Chapter 8. Culinary Careers in Universities and Schools.                                                                                   
Chapter 9. Additional Careers in On-Site Foodservice.
PART 3. INTRODUCTION TO HOME ON AND OFF THE RANGE.
Chapter 10. Culinary Careers in Research and Development.
Chapter 11. Culinary Careers in Education.
Chapter 12. Additional Culinary Careers.
Appendix A Culinary Professional Organizations.
Appendix B Job Descriptions.
Index.
See More
Lisa M. Brefere, CEC, AAC
, is a Certified Executive Chef with over thirty years of experience. A graduate of the Culinary Institute of America, she is a member of the American Culinary Federation and the American Academy of Chefs, and has been awarded the ACF Presidential Medallion for outstanding dedication to the profession. She has coauthored several books including Nutrition for Foodservice and Culinary Professionals. With her business partner Brad Barnes, she cofounded GigaChef.com, an online tool for culinary professionals.
Karen Eich Drummond, EdD, RD, FADA, LDN, FMP, is author and coauthor of numerous books, including Nutrition for Foodservice and Culinary Professionals and The Restaurant Training Program, both published by Wiley.
Brad Barnes, CMC, CCA, AAC, is one of fifty-nine Certified Master Chefs in the United States. A graduate of the Culinary Institute of America, he is a member of the National Certification Commission for the American Culinary Federation and plays a pivotal role in revising culinary certification standards. A cofounder of GigaChef.com with Lisa M. Brefere, he has also coauthored the American Culinary Federation's Guide to Culinary Certification, published by Wiley.
See More
New chapter on Research and Development Chefs, an emerging field in the culinary world

Advice offered from recent culinary school graduates on the advantages of their education

Broadened coverage of careers in on-site foodservice, now highlights careers in healthcare, continuing care communities, the armed forces, and more

Career path is integrated throughout the book, rather than just at the beginning

Professional organizations are identified in each chapter
See More
One-of-a-kind resource for anyone interested in mapping a career path in any aspect of the culinary arts

Food-related jobs such as Culinary Educator, Food Stylist, Food Photographer, Food Writer—even Celebrity Chef—are also included

Realistic, vivid, and practical representation of career tracks, job duties, hours and working conditions, qualifications, employment/promotion opportunities

Interviews with industry leaders who have achieved success on their chosen path

Supplementary instructor materials include Instructor's Manual with Test Bank and PowerPoint slides

This edition does not include a  CD-ROM. 
See More
Instructors Resources
Request a print evaluation copy
Contact us

Contact your Wiley Representative
Find Your Rep

See More
See Less
Learn more about