Shih Tzu For Dummies
ISBN: 978-0-470-08945-3
296 pages
April 2007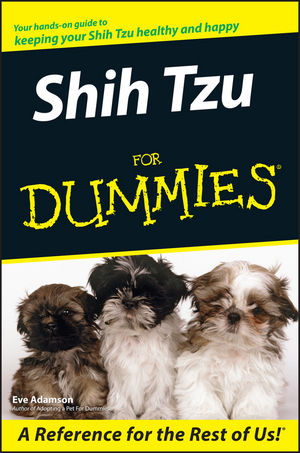 To know a Shih Tzu is to love a Shih Tzu . . . they're irresistible, coy, flirtatious, and passionately devoted companions. They love the good life, and though they can be shrewd (or selectively deaf, or consciously naïve), the Shih Tzu is so endearing that even "big dog" lovers find themselves swooning over this adorable breed. But is the Chinese Charmer the right match for you?
Shih Tzu for Dummies
answers all of your questions, like:
What is a Shih Tzu really like?
Can I get a Shih Tzu if I have children or other pets?
How difficult is grooming? Can I do it myself or should I get a professional?
How do I find a good breeder? What about a good vet?
What should my Shih Tzu eat?
Do small dogs really need that much training?
How can I teach my Shih Tzu some basic commands?
The Shih Tzu is built for one job and one job alone: to be your close personal friend for life. A dog bred for companionship must be allowed to do its job, and its job is to be with you. So, if you have the time (for grooming), dedication (for training), and room (on your lap and in your heart), the Shih Tzu is a small dog with a lot of love just waiting for a new best friend.
See More
Introduction.
Part I: The Quest for the Perfect Shih Tzu.
Chapter 1: Shih Tzu and You.
Chapter 2: To Know a Shih Tzu Is to Love a Shih Tzu.
Chapter 3: What You Need to Know Before You Buy or Adopt a Shih Tzu.
Chapter 4: "I Want That One!": Finding Your Shih Tzu.
Part II: Opening Your Home to Your Shih Tzu.
Chapter 5: Stocking Up: What Every Shih Tzu Needs.
Chapter 6: Prepping for Your Shih Tzu's Arrival.
Chapter 7: Welcoming Home Your Shih Tzu with Open Arms.
Chapter 8: Getting Through the First Few Days.
Part III: Caring for Your Chinese Charmer.
Chapter 9: Feeding Your Shih Tzu Nutritious (and Yummy) Food.
Chapter 10: Making Your Baby Beautiful: Time to Groom.
Chapter 11: Socializing and Shaping Your Shih Tzu's Behavior.
Chapter 12: Keeping Your Shih Tzu Healthy and Safe.
Chapter 13: Handling Important Shih Tzu Health Issues.
Chapter 14: Traveling (Or Not Traveling) Safely with Your Shih Tzu.
Part IV: Training Your Shih Tzu.
Chapter 15: Building a Partnership: Rules to Train By.
Chapter 16: Housetraining Your Shih Tzu: Oops, She Did It Again.
Chapter 17: Mastering the Cues: Sit, Stay, Come, and Others.
Part V: The Part of Tens.
Chapter 18: Ten Shih Tzu Legends: Believe Them or Not!
Chapter 19: Ten Tips for Showing Your Shih Tzu.
Index.
See More
Eve Adamson is an award-winning pet writer and prolific author. A member of the Dog Writers Association of America, she is also a contributing editor for Dog Fancy magazine.
See More