The Unofficial Guide to Opening a Franchise
ISBN: 978-0-470-08951-4
384 pages
February 2007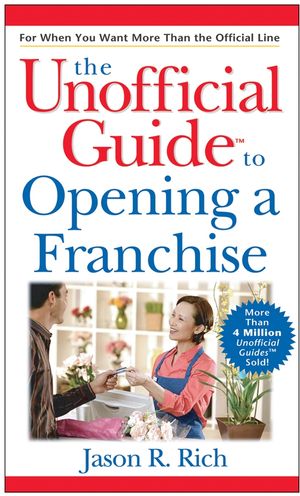 The inside scoop... for when you want more than the official line!



So you dream of escaping the 9-to-5 rat race, starting your own business, and becoming your own boss, but you don't have a clue where to start. Opening a franchise-based business can lower your start-up costs and reduce the time, hassle, and risk associated with getting a new business operational. A franchise offers training, support, a proven business model, and the closest thing possible to a turnkey solution for achieving success. There are more than 3,000 different franchise opportunities in more than seventy-five industries, including packaging and shipping, tax preparation, maid service, fitness, car care, and more. Featuring exclusive, in-depth interviews with a wide range of franchising experts, this book gives you a first-hand perspective plus valuable tips and strategies for success. It provides the guidance you need to choose the right franchise, select a prime location, market your business, and get it up and running efficiently. You'll learn all about financing, essential business skills, hiring and managing employees, working with suppliers, and even preparing for your grand opening. This guide includes:

Vital Information on things to look for when evaluating franchise opportunities--and where to look

Insider Secrets from successful franchisors, franchisees, and franchise consultants

Money-Saving Techniques such as using a franchise attorney to help you review the UFOC (Uniform Franchise Offering Circular) and finalize your Franchise Agreement

The Scoop on the latest trends, plus profiles of the top twenty-five franchises in America

Handy Worksheets to help you examine your goals and opportunities, evaluate financing options, develop a realistic business plan, and more
See More
About the Author.
Introduction.
I Franchising Basics.
1 What's a Franchise, Anyway?
2 Are You Franchisee Material?
3 Choosing the Right Franchise for You.
4 Franchise Opportunities.
II Before You Open Your Doors.
5 Lining Up Your Finances.
6 Legal Issues Relating to Your Franchise.
7 Choosing Your Location.
8 The Training You'll Need.
III Getting Ready for Opening Day.
9 Hiring and Managing Your Employees.
10 Seeking Business Help from Professionals.
11 Working with Suppliers and Vendors.
12 Marketing Your Business Locally.
IV Gathering Expert Advice.
13 Getting Insight from Franchising Experts.
14 Successful Franchisors Reveal Their Secrets for Success.
13 Advice Directly from Franchisees.
V Appendixes.
A Franchising Glossary.
B Franchise Directory.
C Recommended Reading and Other Resources.
Index.
See More
JASON R. RICH is the author of nearly thirty books and numerous articles on career-related issues, technology, e-commerce, entertainment, and travel. He authored The Unofficial Guide to Starting a Business Online (Wiley). He's also the series editor of Entrepreneur magazine's Personal Finance Pocket Guides.
See More