Folding in Architecture, Revised Edition
ISBN: 978-0-470-09218-7
112 pages
June 2004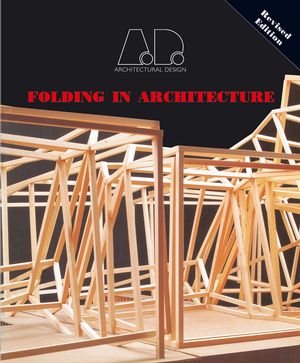 This seminal book from
Architectural Design
was originally published in 1993, at a time of crucial change and on the eve of the digital revolution.
It brought together a series of essays that many believe created the favourable environment in which computer-based design could thrive. Considered one of the most influential architecture publications of the 1990s, this book ranks as a classic and in itself is a crucial chapter of history, though one that has been out of print since 1999. This faithful reprinting includes a substantial new introductory essay by Mario Carpo, Head of the Study Centre at the Canadian Centre for Architecture, which examines the impact of the original texts and their ongoing significance. Thereafter, the book is true to its original content showcasing projects by ground-breaking architects such as Greg Lynn, Jeffrey Kipnis, Bahram Shirdel, Frank Gehry and Philip Johnson.
See More
Preface (Helen Castle).
Introduction (Greg Lynn).
Ten Years of Folding (Mario Carpo).
Unfolding Folding (Kenneth Powell).
Architectural Curvilinearity: The Folded, the Pliant and the Supple (Greg Lynn).
The Fold - Leibniz and the Baroque: The Pleats of the Matter (Gilles Deleuze).
Folding in Time: The Singularity of Rebstock (Peter Eisenman).
Rebstock Park Masterplan, Frankfurt Germany (Peter Eisenman).
Alteka Office Building, Tokyo Japan (Peter Eisenman).
Center for the Arts, Emory University, Atlanta (Peter Eisenman).
The Points of Space (Frederik Stjernfelt).
The Anhalter Folding (Carsten Juel-Christiansen).
Towards a New Architecture (Jeffrey Kipnis).
Nara Convention Hall (Bahram Shirdel).
Scottish National Heritage: A Living Museum (Bahram Shirdel).
Unfolding Architecture (Chuck Hoberman).
Out of the Fold (John Rajchman).
The Material Fold: Towards a Variable Narrative of Anomalous Topologies (Claire Robinson).
Bentwood Furniture (Frank Gehry).
Lewis Residence, Cleveland, Ohio (Frank Gehry and Philip Johnson).
IN VER(re*) T.GO (Thomas Leeser).
Prefectura Gymnasium (Shoei Yoh).
Stranded Sears Tower (Greg Lynn).
Croton Aqueduct (RAA Um).
Computer Imaging: Morphing and Architectural Representation (Stephen Perrella).
Interview with Mark Dippe: Terminator 2 (Stephen Perrella).
First Interstate Bank Tower: A Note on the Architectonics of Folding (Henry Cobb).
See More
Greg Lynn
is an architect with practices in Los Angeles (FORM) and New York (United Architects). He is also a Professor at the Universität für angewandte Kunst Wien, Davenport Visiting Professor at Yale University (2004) and Studio Professor at UCLA.
Mario Carpo is Head of the Study Centre at the Canadian Centre for Architecture, Montreal; Robert Sterling Clark Visiting Professor of Art History at Williams College (2004); and Associate Professor of Architectural History at the School of Architecture of Saint-Etienne, France (on leave).
See More