Mastering Architecture: Becoming a Creative Innovator in Practice
ISBN: 978-0-470-09242-2
248 pages
March 2005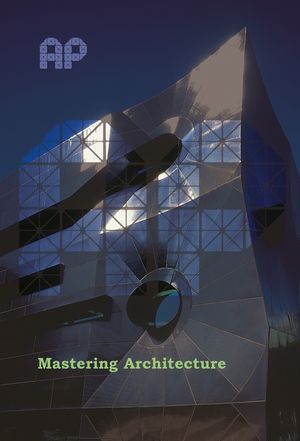 It is easy for even the most accomplished of designers to lose sight of their higher creative goals, once they are in ensconced in practice and burdened by the everyday concerns of running an office and overseeing complex projects. However, it is essential for any architect aspiring to achieve a mastery of their profession to retain an ongoing awareness and understanding of their creative development. This book is a touchstone for architects who want to get back to a creative form of practice, in order to continue progressing and evolving their work.
Mastering Architecture draws on the research of approximately fifty architects who have taken a close look at the nature of their own mastery. This research into mastery reveals things that every practitioner should know about their creative practice – things which most architects are only aware of at an intuitive level. The book flags up personal attributes, such as stamina, creative energy and intellectual capital, which are intrinsic to dynamic practice. It also suggests ways in which practitioners can self-curate their positions within the triangle of their creativity, evolving not only the cultural structure of their profession but the wider world in which they operate.
See More
Introduction: Mastering Architecture – Becoming a Creative Practitioner.
Zone 1: The Individual in Mastery – The Natural History of the Creative Practitioner,
Antwerp: Martine de Maeseneer,
Austin: Kevin Alter,
Brisbane: Donovan Hill,
Christchurch: Thom Craig.
Hobart: Leigh Woolley.
Kuala Lumpur: Architron.
London: Jenny Lowe.
Melbourne: Ian McDougall/Allan Powell/John Wardle.
New York: Michael Sorkin.
Perth: Geoff Warn.
Singapore: Look Boon Gee, Richard Hassell, Mok Wei Wei.
Sydney: Ian Moore/Stephen Varady/Durbach Block.
Scotland, Tokyo and London: Kathryn Findlay.
Ljubljana and Melbourne: Tom Kovac.
Zone 2: The Groups in Mastering.
Self-Curating Collectives: Terroir, Iredale Pedersen Hook Architects.
Fostering Informal Associations: William Lim, Ken Yeang.
Partnerships for Life and Practice: Julian Feary and Kate Heron: Enchaining Art, Vorberg and Kirchhofer – VK Architecture.
Migrating Contexts: Colin Fournier, Louis Kruger.
Establishing Poles: Sean Godsell, Allan Powell.
Firms that sustain innovation from within: ARM, Lyons.
Zone 3: Thwarted Mastery.
Overshadowing.
Technical Over-Refinement.
Forgetting Cultural Capital.
Confusing the Knowledge Base.
Failing to Elevate Innovations into a Metropolitan Discourse – Raphael Moneo.
Zone 4: Encouraging Mastery and Innovation.
Encouraging Mastery and Innovation.
Collective Environments that Encourage.
Regional and Provincial Environments that Encourage.
Metropolitan Environments that Encourage.
Zone 5: Self-Curationas a Portal from Mastery to Creative Innovation.
Wood Marsh and Resistance.
Leon van Schaik and the Ideogram Approach.
The Melbourne Concourse of Architecture.
Reflection.
Useful Tips.
Notes.
Bibliography.
Photo Credits
Index.
See More
Leon van Schaik is Innovation Profession of Architecture at RMIT, Melbourne, Australia. At RMIT, he has developed a practice-based research programme for architects and designers whose works already demonstrates mastery in their field. He has over the same seventeen-year period instituted a process of consultant appointment that is widely credited with shifting the climate of patronage within the city. Recent works by van Schaik include monographs on: Edmond and Corrigan, Ushida Findlay, Guilford Bell, Tom Kovac and Ken Yeang's Guthrie Pavilion as well as the Poetics in Architecture issue of Architectural Design.
See More
More in this series