Topology Control in Wireless Ad Hoc and Sensor Networks
ISBN: 978-0-470-09453-2
Hardcover
280 pages
August 2005
US $125.00

Add to Cart
This price is valid for United States. Change location to view local pricing and availability.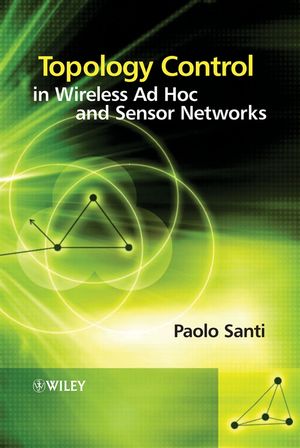 Other Available Formats:
E-book
About the Author.
Preface.
Acknowledgments.
List of Abbreviations.
List of Figures.
List of Tables.
I: Introduction.
1. Ad Hoc and Sensor Networks.
1.1 The Future ofWireless Communication.
1.2 Challenges.
2. Modeling Ad Hoc Networks.
2.1 The Wireless Channel.
2.2 The Communication Graph.
2.3 Modeling Energy Consumption.
2.4 Mobility Models.
2.5 Asymptotic Notation.
3. Topology Control.
3.1 Motivations for Topology Control.
3.2 A Definition of Topology Control.
3.3 A Taxonomy of Topology Control.
3.4 Topology Control in the Protocol Stack.
II: The Critical Transmitting Range.
4. The CTR for Connectivity: Stationary Networks.
4.1 The CTR in Dense Networks.
4.2 The CTR in Sparse Networks.
4.3 The CTR with Different Deployment Region and Node Distribution.
4.4 Irregular Radio Coverage Area.
5. The CTR for Connectivity: Mobile Networks.
5.1 The CTR in RWPMobile Networks.
5.2 The CTR with Bounded, Obstacle-free Mobility.
6. Other Characterizations of the CTR 63
6.1 The CTR for k-connectivity.
6.2 The CTR for Connectivity with Bernoulli Nodes.
6.3 The Critical Coverage Range.
III: Topology Optimization Problems.
7. The Range Assignment Problem.
7.1 Problem Definition.
7.2 The RA Problem in One-dimensional Networks.
7.3 The RA Problem in Two- and Three-dimensional Networks.
7.4 The Symmetric Versions of the Problem.
7.5 The Energy Cost of the Optimal Range Assignment.
8. Energy-efficient Communication Topologies.
8.1 Energy-efficient Unicast.
8.2 Energy-efficient Broadcast.
IV: Distributed Topology Control.
9. Distributed Topology Control: Design Guidelines.
9.1 Ideal Features of a Topology Control Protocol.
9.2 The Quality of Information.
9.3 Logical and Physical Node Degrees.
10. Location-based Topology Control.
10.1 The R&M Protocol.
10.2 The LMST Protocol.
11. Direction-based Topology Control.
11.1 The CBTC Protocol.
11.2 The DistRNG Protocol.
12. Neighbor-based Topology Control.
12.1 The Number of Neighbors for Connectivity.
12.2 The KNeigh Protocol.
12.3 The XTC Protocol.
13. Dealing with Node Mobility.
13.1 TC Design Guidelines with Mobility.
13.2 TC in Mobile Networks: an Example.
13.3 The Effect of Mobility on the CNN.
13.4 Distributed TC in Mobile Networks: Existing Solutions.
V: Toward an Implementation of Topology Control.
14. Level-based Topology Control.
14.1 Level-based TC:Motivations.
14.2 The COMPOW Protocol.
14.3 The CLUSTERPOW Protocol.
14.4 The KNeighLev Protocol.
14.5 Comparing CLUSTERPOW and KneighLev.
15. Open Issues.
15.1 TC for Interference.
15.2 More-realistic Models.
15.3 Mobility and Topology Control.
15.4 Considering MultiHop Data Traffic.
15.5 Implementation of TC.
VI: Case Study and Appendices.
16. Case Study: TC and Cooperative Routing in Ad hoc Networks.
16.1 Cooperation in Ad hoc Networks.
16.2 Reference Application Scenario.
16.3 Modeling Routing as a Game.
16.4 A Practical Interpretation of Truthfulness.
16.5 Truthful Routing without TC.
16.6 Truthful Routing with TC.
16.7 Conclusion.
A: Elements of Graph Theory.
A.1 Basic Definitions.
A.2 Proximity Graphs.
B: Elements of Applied Probability.
Bibliography.
Index.