GPRS in Practice: A Companion to the Specifications
ISBN: 978-0-470-09507-2
394 pages
September 2004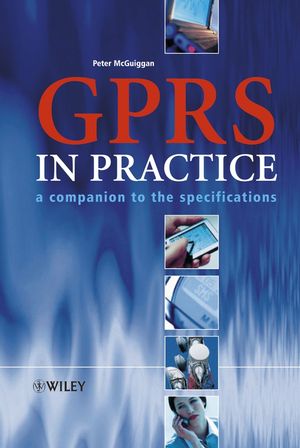 Professionals quickly discover that, although the technical specifications for GPRS cover all parts of the engineering functions in detail and depth, they are lacking in one important feature; the conceptual framework within which the specifications sit -
GPRS in Practice
fills this gap. By beginning with an explanation of why GPRS is necessary and describing the core concept of GPRS operations, the TBF (Temporary Block Flow), a revision section then covers the GSM Air Interface with its Radio, Physical and Logical channels and this progressively leads to the GPRS logical channels - what they do and how they do it. The book then moves on to a brief introduction of the GPRS protocol stack which provides a launch pad for a detailed trip into all the layers of this stack, with detailed diagrams and explanations of each layer integrated into an overall understanding of how the GPRS service operates in practice.
Provides descriptions of why procedures are specified and then clearly explains how the specifications work in practice 
Provides a layered view of the GPRS protocol and deals in detail with each layer separately 
Includes numerous acronyms and abbreviations accompanied by their full meaning
An invaluable resource for Mobile network operators, Development and deployment engineers and Handset designers.
See More
Preface.
1. Introduction.
2. Radio Channels, Physical channels and Logical Channels - the GSM/GPRS Air Interface.
3. Air Interface Frame and Multiframe Structures.
4. The TBF and the MAC Layer.
5. An Introduction to Protocol Layers Data Flow.
6. GPRS Mobile Station Characteristics.
7. Operations in the Physical Layers.
8. RLC/MAC Layer Procedures.
9. LLC Layer Procedures.
10. GMM Layer Procedures.
11. SM Layer Procedures.
12. SNDCP Procedures.
Appendix 1: GMSK and EDGE.
Appendix 2: System Information and Packet System Information.
Appendix 3: Inter-Layer Primitives.
Appendix 4: Mobile Station Uplink Power Control.
Appendix 5: A Possible Problem with UL TBFs When the Application Layer is Using TCP/IP.
Recommended Reading.
Index.
See More
Peter McGuiggan has worked in telecommunications for the past forty years.  He has held a variety of positions such as development test-engineer for a telecommunications manufacturer, an engineer working on fixed line international telecommunications systems including satellite, microwave and line transmission systems and as a lecturer in radio systems and advanced electronics and  an engineering manager.  He also worked in Saudia Arabia managing the telecommunications training for the National Guard.Upon the privatisation of UK telecommunications in 1986, he was appointed as the training manager of one of the new telecommunications operating companies and in 1992 he was appointed Training Adviser to the Director of Mobile Communications of a major operating company. He currently works as a Telecommunications Consultant for PMCG Consultancy Ltd in the UK where he has written and presented courses on the GSM Air Interface, The GSM A-bis Interface, Cell Planning, Cell Optimisation using Frequency Hopping, GPRS Operations and UMTS Operations.
See More