HDTV For Dummies, 2nd Edition
ISBN: 978-0-470-09673-4
360 pages
January 2007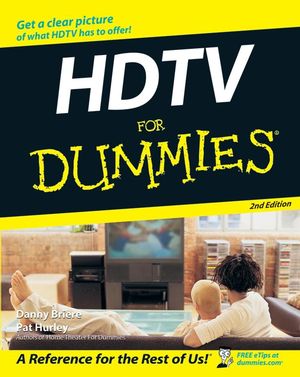 If you love movies, TV, and video games, then you've probably thought seriously about investing in a high-definition television set, otherwise known as HDTV. But before you run to your nearest electronic goods store, you should know what you're investing your hard-earned money in, which TV set is good for you, and other things that will optimize your viewing pleasure.
HDTV for Dummies shows you everything you need to know about buying the right equipment, setting it up, and enjoying all the things you love about TV. It'll save you tons of confusion over this exciting new technology and tell you everything you need to know about terms, concepts, and the difference between HD and digital. This handy guide gives you the tools you need to:
Get connected with video and audio cables

Hook up your DVD player, VCR, PC, camcorder, and other fun stuff

Mount your HDTV

Receive HDTV programming

Understand the difference between HD DVD and Blu-ray disc players

Record with DVRs and VCRs

Install game consoles like PS3, Xbox 360, and Nintendo Wii

Enhance your HDTV with audio upgrades
The guide also shows you how to shop smart and lists the best places to buy your HDTV and popular accessories to pump up your system. With up-to-date knowledge on the latest technology in the market today, HDTV for Dummies gives you a clear picture of what HDTV can do for your viewing experience!
See More
Introduction.
Part I: HDTV Fundamentals.
Chapter 1: What the Heck Is HDTV?
Chapter 2: Shopping Smart.
Chapter 3: Cables and Connections.
Chapter 4: Hooking Up Your HDTV.
Chapter 5: Mounting Your HDTV.
Part II: Getting HDTV Programming.
Chapter 6: Who's Showing HDTV?
Chapter 7: Something's in the Air.
Chapter 8: The Cable Guy.
Chapter 9: Rocket Science.
Chapter 10: Internet-Based HDTV.
Part III: Movie Machines.
Chapter 11: DVDs.
Chapter 12: Getting Into DVRs.
Chapter 13: Taping Time.
Part IV: HDTV Gadgets Galore.
Chapter 14: Gaming Consoles.
Chapter 15: Camcorders.
Chapter 16: Gadgets.
Part V: Sensory Overload.
Chapter 17: Understanding Audio.
Chapter 18: Home-Theater Audio.
Chapter 19: Setting the Mood.
Chapter 20: Enhancing Your HDTV.
Part VI: Geek Stuff.
Chapter 21: TV Engineering.
Chapter 22: Projecting a Good Image.
Chapter 23: Thin Is In.
Chapter 24: Good Ol' Tubes.
Part VII: The Part of Tens.
Chapter 25: More than Ten Places to Buy an HDTV.
Chapter 26: More Than Ten HDTV Accessories.
Index.
See More
Danny Briere
founded TeleChoice, Inc., a telecommunications consulting company, in 1985 and now serves as CEO of the company. Widely known throughout the telecommunications and networking industry, Danny has written more than 1,000 articles about telecommunications topics and has authored or edited ten books, including
Smart Homes For Dummies
(now in its second edition),
Wireless Home Networking For Dummies
(now in its second edition)
,
Wireless Hacks and Mods For Dummies, Windows XP Media Center Edition 2004 PC For Dummies, and Home Theater For Dummies
(now in its second edition). He is frequently quoted by leading publications on telecommunications and technology topics and can often be seen on major TV networks, providing analysis on the latest communications news and breakthroughs. Danny splits his time between Mansfield Center, Connecticut, and his island home on Great Diamond Island, ME, with his wife and four children.
Pat Hurley is Director of Research with TeleChoice, Inc., specializing in emerging telecommunications and digital home technologies, particularly all the latest consumer electronics, access gear, and home technologies, including wireless LANs, DSL, cable modems, satellite services, and homenetworking services. Pat frequently consults with the leading telecommunications carriers, equipment vendors, consumer goods manufacturers, and other players in the telecommunications and consumer electronics industries. Pat is the co-author of Smart Homes For Dummies, Wireless Home Networking For Dummies, Wireless Hacks and Mods for Dummies, Windows XP Media Center Edition 2004 PC For Dummies, and Home Theater For Dummies. He lives in San Diego, California, with his wife, a fiery red-headed toddler named Annabel, and two smelly dogs.
See More