Teach Yourself VISUALLY Golf
ISBN: 978-0-470-09844-8
256 pages
April 2007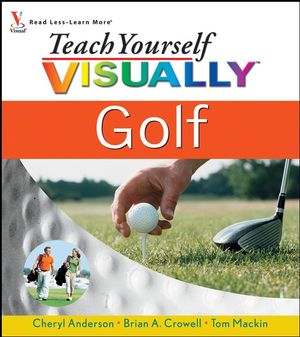 This book is not par for the course—hundreds of color photos make learning golf techniques and skills fun. You'll learn how to drive, chip, and putt your way to a respectable score. This visual guide covers basics like grip, stance, and swing, along with techniques for executing various shots and solving common problems. Beginners and veteran duffers will see how to progress from in the rough to on the green.
Concise lessons show you all the steps to a skill and are ideal for quick review
Each skill or technique is defined and described

Detailed color photos demonstrate each shot or technique

Step-by-step instructions accompany each photo

Helpful tips provide additional guidance
See More
Chapter 1: An Introduction to Golf.
The History of the Game.
Important Tournaments.
Legendary Players.
How the Game Is Played.
Types of Courses.
The Parts of a Golf Course.
Keeping Score.
Keeping It in Perspective.
Why You Should Play.
Golf Travel.
Chapter 2: Equipment.
Clubs.
Parts of a Golf Club.
Where and How to Buy Clubs.
Balls and Tees.
Carrying Your Clubs: Golf Bags and Carts.
Clothing, Shoes, and Glove.
Other Essentials and Nice-to-Have Gadgets.
Chapter 3: Getting Set: Your Grip and Stance.
Grip the Club.
Find the Right Grip Pressure.
Choose a Type of Grip.
Position Your Hands.
Assume Your Stance.
Position the Ball.
Align Your Shot.
Square the Clubface.
Chapter 4: The Iron Swing.
The Swing.
Stance.
Practice Swing.
Backswing.
Downswing.
Impact.
Follow-Through.
Finish.
Swing Path.
Chapter 5: Driving.
Tee It Up.
Make Your Swing.
Select a Club.
Tee Shot Routine.
Practice Drills.
Chapter 6: Chipping and Pitching.
What Is Chipping?
Chipping Stance.
Chipping Swing.
Chipping from the Fairway.
Chipping from the Rough.
What Is Pitching?
Pitching Stance.
Pitching Swing.
Practice Drills.
Chapter 7: Bunker Shots.
Types of Bunkers.
Hit Out of a Greenside Bunker.
Hit Out of a Fairway Bunker.
Bunker Lies.
Practice Drills.
Chapter 8: Putting.
How to Putt.
Grip the Putter.
Take Your Stance.
Make the Swing.
Read the Green.
Control the Distance.
Practice Drills.
Chapter 9: At the Course.
Check In.
Warm Up.
Gear Up.
Get Your Game Underway.
Review the Rules.
Keep Score.
Essential Golf Etiquette.
Games You Can Play.
Golf Outing Guidelines.
Chapter 10: Troubleshooting and Tricky Shots.
Fix a Slice.
Fix a Hook.
Avoid Hitting Fat Shots.
Avoid Hitting Thin or Topping.
Stop Hitting Pop-Ups.
Stop Hitting Line Drives.
Know Your Divots.
Hit Out of a Divot.
Hit from Up Against the Collar.
Hit Out from Under a Tree.
Hit Out of Deep Rough.
Hit Off a Sidehill Lie.
Hit Off a Downhill Lie.
Hit Off an Uphill Lie.
Chapter 11: Improving Your Game.
Taking Lessons.
Practicing with a Purpose.
Appendix A: PGA Sections.
Appendix B: Glossary.
Appendix C: Swing Sequences.
Index.
See More
CHERYL ANDERSON
is the director of instruction at Wykagyl Country Club in New Rochelle, NY. She received the LPGA's 2006 National Teacher of the Year award and is one of Golf for Women's 50 Top Women Teachers in America.
BRIAN A. CROWELL is the head golf professional at GlenArbor Golf Club in Bedford Hills, NY. In 2003 he was awarded the Horton Smith Award for his contributions to golf education.
TOM MACKIN has been an associate editor at GOLF Magazine and a contributing editor for Zagat's America's Top Golf Courses.
See More