Asterisk For Dummies
ISBN: 978-0-470-09854-7
334 pages
February 2007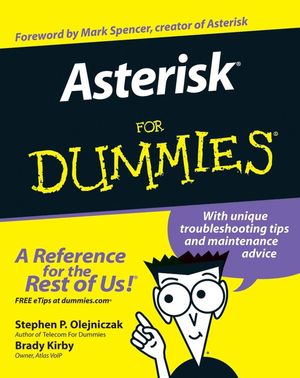 Your company can save tons of money by taking advantage of Asterisk, an open-source PBX that allows you to bridge data and voice communications.
Asterisk for Dummies
saves you all the worries and confusion with its easy-to-use, step-by-step walkthrough of the entire program that will have you set up in no time!
Asterisk takes the data side of telecom and applies it to the handling and processing of voice calls. This book will show you everything you need to know to install, program, and grow with Asterisk. The invaluable information covered in this guide shows you how to:
Utilize dialplan, add features, and build infrastructure
Maintain your telecom service
Address call-quality concerns and completion issues
Provide long-term health for your Asterisk switch
Operate the AsteriskNOW GUI
Utilize VoIP codecs
Troubleshoot VoIP calls with packet captures
Avoid the things you should never do with Asterisk
In addition to these essential tools, this trusty guide shows you how to manipulate your Asterisk and make it even more useful, such as fending off telemarketers, creating a voice mailbox that e-mails everyone, and transmitting your voice through your stereo. It also has quick references that no Asterisk operator should be without, like dialplan functions, VoIP basics, and a concise guide to Linux. With Asterisk for Dummies, you'll have the power to handle all the necessary programming to set up the system and keep it running smoothly.
See More
Foreword.
Introduction.
Part I: Introducing . . . ASTERISK!
Chapter 1: Evaluating the Possibilities with Asterisk.
Chapter 2: Installing Asterisk.
Chapter 3: Installing AsteriskNOW.
Chapter 4: Configuring the Hardware.
Part II: Using Dialplans — the Building Blocks of Asterisk.
Chapter 5: Comprehending Dialplan Syntax.
Chapter 6: Adding Features to Dialplans.
Chapter 7: Building Dialplan Infrastructure.
Chapter 8: Operating the AsteriskNOW GUI.
Chapter 9: Utilizing VoIP Codecs.
Part III: Maintaining Your Phone Service with Asterisk.
Chapter 10: Troubleshooting VoIP Calls with Packet Captures.
Chapter 11: Maintaining Your Telecom Services.
Chapter 12: Addressing Call-Quality Concerns and Completion Issues.
Chapter 13: Handling Dedicated Digital Troubles.
Chapter 14: Managing Asterisk for Peak Capacity.
Chapter 15: Providing Long-Term Health for Your Asterisk Switch.
Part IV: The Part of Tens.
Chapter 16: Ten Things You Should Never Do with Asterisk.
Chapter 17: Ten Fun Things to Do with Your Asterisk.
Chapter 18: Ten Places to Go for Help.
Part V: Appendixes.
Appendix A: Visualizing the Dialplan.
Appendix B: VoIP Basics.
Appendix C: Understanding Basic Linux.
Index.
See More
Stephen Olejniczak
is the Director of Operations for ATI, and has over 14 years of experience in telecommunications. His experience is focused on installation, service, and support of voice service with a growing responsibility for delivering VoIP. He's the author of
Telecom For Dummies
and a snappy dresser.
Stephen didn't start out in life as a techie, only falling prey to the glamour and easy money after failing to find a career enabling him to use his Bachelors degree in Cultural Anthropology. He currently lives in the quaint hamlet of Laguna Beach, California with his beautiful wife Kayley and a collection of fountain pens.
Brady Kirby is the owner of Atlas VoIP and has been programming since he was 13 years old. The initial challenge of writing small screen savers in qbasic wasn't enough for him and by the 10th grade he worked his way up to the strong stuff — game programming. It was at this tender age that Brady accepted his calling. He realized it was his lot in life to make the world a better place, solving people's problems, by evolving inventive software.
Brady spends his free time with his son, Brady Kirby III, in the crucible of technology and engineering, Huntsville, Alabama. Surrounded by many tech companies, and that space program we have (we think it's called NASA), they enjoy the good life with large helpings of lasagna and good Mexican food. It's in this environment that Brady III is mentored in all aspects of programming by his father. Maybe to write his own For Dummies book someday.
See More