Microsoft SharePoint 2007 For Dummies
ISBN: 978-0-470-09941-4
460 pages
April 2007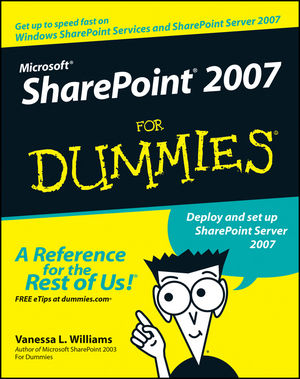 Microsoft SharePoint now has a 10 percent share of the portal market, and the new release, which features enhanced integration with Office 2007, is sure to give SharePoint a boost
Offers clear instructions and soup-to-nuts coverage of this complex product, focusing instead on practical solutions to real-world SharePoint challenges
Features tips, tricks, and techniques for administrators who need to install and configure a SharePoint portal as well as ordinary users who need to populate and maintain the portal and use it for collaborative projects
Topics covered include setting up a SharePoint portal, matching SharePoint to business needs, managing portal content, branding, collaborating on SharePoint sites, using a portal to improve employee relations and marketing, putting expense reports and other interactive forms on a portal, and monitoring and backing up SharePoint
See More
Introduction.
Part I: Setting Up SharePoint.
Chapter 1: Getting to Know SharePoint.
Chapter 2: Installing SharePoint.
Chapter 3: Creating the Site Hierarchy.
Part II: Exploring SharePoint's Building Blocks.
Chapter 4: Introducing Sites and Site Content.
Chapter 5: Navigating SharePoint.
Chapter 6: Granting Access to SharePoint.
Chapter 7: Managing Data with SharePoint.
Chapter 8: Managing Business Processes with SharePoint.
Part III: Improving Information Worker Collaboration and Productivity.
Chapter 9: Using SharePoint for Collaboration.
Chapter 10: Communicating with SharePoint.
Chapter 11: Using Portal Sites.
Chapter 12: Configuring Profiles and My Sites.
Chapter 13: Personalizing Sites.
Chapter 14: Searching the Enterprise.
Part IV: Enterprise Applications for SharePoint.
Chapter 15: Exploring Document and Records Management.
Chapter 16: Publishing Web Content.
Chapter 17: Providing Access to Business Intelligence.
Part V: Administering SharePoint.
Chapter 18: Administering and Monitoring SharePoint.
Chapter 19: Backing Up the Server.
Part VI: The Part of Tens.
Chapter 20: Ten SharePoint Resources Worth Checking Out.
Chapter 21: Ten Positive Outcomes from Implementing SharePoint.
Index.
See More
Vanessa Williams is an author and consultant specializing in SharePoint technologies. She helps organizations, technology professionals, and end users find meaningful uses for technologies, such as SharePoint, Office 2007, Visual Studio, and the .NET Framework.
Vanessa grew up in Indianapolis, where she graduated from the Kelley School of Business at Indiana University with a Bachelor of Science degree in Business Management and Computer Information Systems. She still lives in Indy, about three miles south of downtown in the wonderful Garfield Park South neighborhood.
In her spare time, Vanessa likes to read books about sociology, religion, spirituality, and current affairs. She enjoys hiking, traveling, and spending time with her family, including her two dogs Rosie and Buffy. She also enjoys staying current on enterprise technologies and consumer electronics. Vanessa loves to talk about SharePoint. You can contact her via her Web site at www.sharepointgrrl.com.
See More