Smart Is Not Enough!: The South Pole Strategy and Other Powerful Talent Management Secrets
ISBN: 978-0-470-10010-3
218 pages
March 2007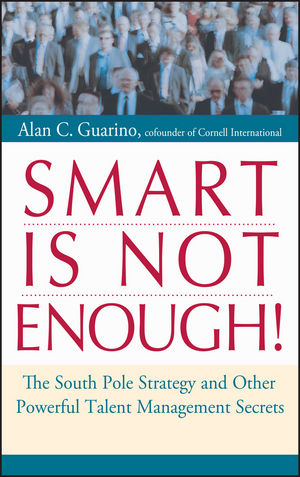 The Information Age is OVER -- In business today, it is all about TALENT!
"Smart Is Not Enough" explains the core issue of 21st century business. Forget technology - Forget outsourcing TALENT is the #1 challenge in your organization.  Whether you're a CEO or an entry level college grad; whether you manage a staff or not, this book is for you.  It can help in career planning, in developing your management strategy, or just help you understand the playing field in business today. Author Alan Guarino explains the full gamut of cutting-edge talent management, from how to find it, develop it, deploy it and lead it, to his South Pole Theory of  "hidden talent" talent as a  solution for the shortage of critical talent in the business world of the 21st Century.
The South Pole Theory explains that traditionally, corporations biased their talent searches towards those who performed at the top of their academic classes. Yet, some of the most successful executives and business leaders weren't good students themselves. Grades aren't the only predictor of success in the real business world. This book shares techniques for finding those determined, dedicated go-getters who fall through the cracks when we judge them solely on academics. To compete in business today, top companies need to cultivate every available source of talent. This book shows business leaders how to find and capitalize on this special pool of talent-- the future versions of people like Paul Orfalea, founder of Kinkos, Wayne Huizenga of Blockbuster Video, and many others.
Alan Guarino (Marlboro, NY) is CEO and co-founder of the executive search firm Cornell International.  His firm is now owned by Adecco, the largest recruiting company in the world.
See More
Introduction: Why you need to read this!
Acknowledgements.
PART ONE: THE TALENT CRISIS COULD BANKRUPT YOUR BUSINESS
1. The Global Talent Market — Why our nation's graduates will work for Wipro in Mumbai and why it matters to everyone.
2. The Past is Gone - The Future Is Now - The Talent Age is Upon Us?
PART TWO: SOUTH POLE; THE SECRET SOURCE OF SUPERSTAR TALENT: ACADEMIC UNDERACHIEVERS AND WHY THEY ARE WINNERS!
3. Hire From the South Pole!
4. EI is more important than GPA
5. The Five South Pole Talent Secrets
PART THREE: HUMAN CAPITAL TALENT MANAGEMENT: STRATEGIZE, ATTRACT IT; EVALUATE IT; DEVELOP IT; AND LEAD IT
6. The Human Resources Division — Finally a Chance to Shine!
7. Organizing to Optimize Talent
8. Find It! - attracting South Polers and Other Talent: the needle in the Haystack
9. Deploy It! - and the Art of Matching the Talent to the Mission and the Team
10. Develop It! – cutting edge methods for staff development
11. Lead it! - Follow Me and Do as I Do!
See More
ALAN C. GUARINO cofounded the executive search firm Cornell International in 1993 and grew it to prominence on Wall Street before selling it to Adecco, the world's largest recruiting company, in 2003. At Adecco, he remains CEO of Cornell and is responsible for the brand worldwide. He also personally handles a select number of retained search assignments for Wall Street clients and emerging growth companies in professional services, financial services, e-business, marketing, communications, and technology.For more information, visit www.AlanGuarino.com or www.SmartIsNotEnough.com.
See More