Teach Yourself VISUALLY Quilting
ISBN: 978-0-470-10149-0
304 pages
November 2007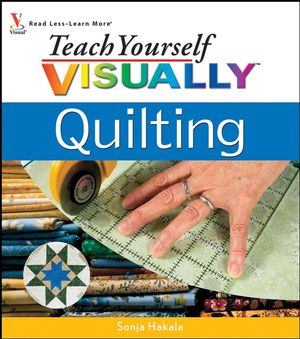 It's amazing what you can do with two pieces of fabric and a layer of batting—the variety of quilts and quilting techniques is staggering. This guide introduces you to the essential skills you need to set off on your own quilting adventures. It walks you through everything from selecting fabrics to assembling blocks to binding the edges. Examples and patterns include both traditional and modern designs and use both hand-stitching and machine quilting so you can create unique quilts and quilted items that reflect your personal style.
Concise two-page lessons show you all the steps to a skill and are ideal for quick review
Each skill or technique is defined and described

Step-by-step instructions accompany each photo

Detailed color photos demonstrate each step

Helpful tips provide additional guidance
See More
Chapter 1: Introduction to Quilting.
The Parts of a Quilt.
First Stage: The Quilt Top.
The Essential Shapes in Patchwork.
Three Levels of Pattern in a Quilt Top.
Second Stage: Layer the Quilt.
Third Stage: Finish the Quilt.
Chapter 2: Fabric, the Quilter's Medium.
Fabric Basics.
Types of Fabric Prints.
Chapter 3: Quilting Tools.
Needles, Pins, and Related Items.
Cutting and Measuring Tools.
Thread.
Other Quilting Necessities.
Sewing Machines.
Chapter 4: Choose Fabrics for Your Quilt.
Value, Contrast, Pattern, and Color.
Value and Contrast Exercises.
More Color Terms.
Build a Color Palette.
Choose Fabrics.
Block Test.
Inspirations for Color Schemes.
Use a Color Wheel.
Color Relationships.
Fabric Auditions.
Questions to Ask.
Chapter 5: Prepare and Cut Fabric for Your Quilt Top.
Prewash Your Fabric.
Cut Fabric by Hand: One Template Method.
Cut Fabric by Hand: Two Templates Method.
Cut Fabric with a Rotary Cutter.
Chapter 6: Cut and Sew a Place Mat of Squares.
Math for Cutting Squares.
Design a Project of Squares.
Rotary Cut a Place Mat Top.
Hand Sew a Place Mat Top.
Machine Piecing.
Machine Sew a Place Mat Top.
Chapter 7: Use Squares to Construct a Baby Quilt.
Project Overview.
Color Selection.
Quilting Math.
Cut Squares from Fat Quarters.
Cut Squares from Fabric Strips.
Design the Quilt Top.
Piece the Quilt Top.
Chapter 8: Work with Rectangles: Broken Bricks Pattern.
Broken Bricks Pattern Overview.
Measure and Cut Quilt Top Pieces.
Organize and Piece Your Quilt Top.
Chapter 9: Introduction to Strip Sets: Fence Rail Pattern.
Fence Rail Pattern Overview.
Color Suggestions.
Quilting Math.
Cut and Sew Strip Sets.
Cut Strip Sets into Blocks.
Fix an Oops.
Sew the Quilt Top.
Chapter 10: Variations in Strip Sets: Log Cabin Pattern.
Log Cabin Pattern Overview.
Log Cabin Block Analysis and Quilting Math.
Cut and Sew a Variety of Strip Sets.
Combine Strip Set Logs into a Block.
Experiment with Various Designs.
Sew the Quilt Top Together.
Press the Log Cabin Block.
Chapter 11: More Piecing Techniques.
Holiday Projects.
Holiday Projects Overview.
Fabric Needs for Small Projects.
Fussy Cutting.
Sashing with Posts.
Sashing without Posts.
Borders.
Add a Border.
Stack of Coins Border.
Chapter 12: Four Patch and Nine Patch.
Create Four-Patch Blocks with Strip Sets.
Chain Piecing.
Create Nine-Patch Blocks with Strip Sets.
Combine Blocks in a Tablecloth Project.
Tablecloth Design Elements.
Select Your Colors for the Tablecloth.
Create Large Blocks from Smaller Blocks.
Sashing between Blocks.
Pieced Border.
A Word about Squareness.
Chapter 13: Triangles.
Half-Square Triangle Challenges.
Pinwheels from Half-Square Triangles.
North Star Wall Hanging.
Pinwheel Star Sampler.
Pinwheel Star Quilt Project.
Quarter-Square Triangles.
Quarter-Square Triangle Block with Three Fabrics.
Ohio Star Table Runner with Hourglass Border.
Double Half-Square Triangles (Flying Geese Unit).
Flying Geese Quilt.
Chapter 14: Joining Blocks Diagonally: Setting on Point.
Straight Sets versus Setting on Point.
Garden of Violets Lap Quilt Overview.
Garden of Violets Block Construction.
Lay Out the Quilt Top.
Cut Setting and Corner Triangles.
Sew the Quilt Top.
Create a Floating Border.
Chapter 15: Crazy Quilting and String Piecing.
Traditional Log Cabin Block Building.
Create a Crazy Quilt Block.
Create a String-Pieced Block.
Stack and Slash.
Crazy Quilt a Handbag.
Stack-and-Slash Lap Quilt.
Chapter 16: Backing, Batting, and Basting.
Backing.
Batting.
Natural versus Synthetic Fibers.
Make a Quilt Sandwich.
Basting for Hand Quilting.
Potholders.
Chapter 17: Tying and Quilting.
Tying.
Hand Quilting Tools and Supplies.
Planning the Quilt Pattern.
Quilting without a Hoop or Frame.
Hand Quilting Basics.
Machine Quilt As You Go.
Long Arm Quilting.
Chapter 18: Binding.
Prepare Quilt for Binding.
Continuous Binding Strips.
Bias Binding Strips.
Attach Hanging Sleeve.
Attach Binding Strips.
Finish Binding.
Appendix: Quilt Gallery.
Index.
See More
Sonja Hakala has been a writer, editor, and designer for twenty years. In addition to making quilts and other patchwork projects for family and friends, she donates work to charitable organizations and teaches beginner quilting classes. She's a member of the Northern Lights Quilters Guild in Lebanon, New Hampshire. Her how-to articles have appeared in newspapers and magazines such as the Boston Sunday Globe Magazine and the Old Farmer's Almanac. She is the editor of the book American Patchwork: True Stories from Quilters.
See More