E-book
The Ultimate Accountants' Reference: Including GAAP, IRS & SEC Regulations, Leases, and More, 2nd Edition
ISBN: 978-0-470-10667-9
888 pages
November 2006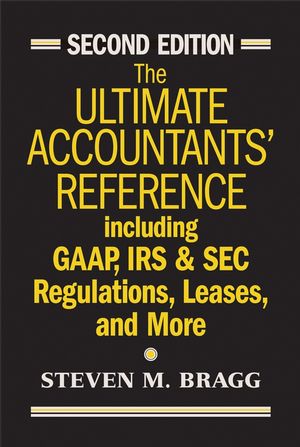 The Ultimate Accountants' Reference Including GAAP, IRS & SEC Regulations, Leases, and More, Second Edition updates you on the latest accounting regulations for all aspects of the financial statements, accounting management reports, and management of the accounting department including best practices, control systems, and the fast close. This is the perfect daily answer book for the practicing accountant.
See More
About the Author.
Acknowledgments.
Preface.
Part One: Overview of Accounting and Its Role in the Organization.
1 Introduction.
2 The Role of Accounting.
3 The Corporate Structure.
Part Two: Accounting Rules and Regulations.
4 Standard-Setting Organizations.
5 Accounting Standards.
6 The Securities and Exchange Commission.
7 Laws Impacting Accounting.
Part Three: Accounting Reports.
8 The Balance Sheet and Statement of Stockholders' Equity.
9 The Income Statement.
10 The Statement of Cash Flows.
11 Footnotes.
12 Internal Management Reports.
13 Foreign Currency Translation.
14 Cash, Prepaid Expenses, and Investments.
Part Four: Elements of the Balance Sheet and Income Statement.
15 Inventory.
16 Accounts Receivable.
17 Fixed Assets.
18 Current Liabilities and Contingencies.
19 Debt.
20 Equity.
21 Stock Options.
22 Revenue.
23 Research and Development.
24 Leases.
Part Five: Accounting Management.
25 Earnings per Share.
26 Segment Reporting.
27 Interim Reporting.
28 Accounting Changes and Correction of Errors.
29 Not-for-Profit Accounting.
30 Best Practices.
31 Budgeting.
32 Closing the Books.
33 Control Systems.
34 Cost Accounting.
35 Financial Analysis.
36 Management Information Systems.
37 Records Management.
Part Six: Financial Management.
38 Customer Credit.
39 Financing.
40 Cash Management.
41 Risk Management.
Part Seven: Other Accounting Topics.
42 Mergers and Acquisitions.
43 The Initial Public Offering.
44 Bankruptcy.
45 Taxation.
A The Chart of Accounts.
B Journal Entries.
C Interest Tables.
D Ratios.
E Dictionary of Accounting Terms.
F Due Diligence Checklist.
Index.
See More
Steven Bragg, CPA, CMA, CIA, CPIM, has been the chief financial officer or controller of four companies, as well as a consulting manager at Ernst & Young and auditor at Deloitte & Touche. He received a Master's degree in Finance from Bentley College, an MBA from Babson College, and a Bachelor's degree in Economics from the University of Maine. He has been the two-time president of the Colorado Mountain Club, is an avid alpine skier and mountain biker, and is a certified master diver. Mr. Bragg resides in Centennial, Colorado with his wife and two daughters. He has published the following books through John Wiley & Sons: Accounting and Finance for Your Small Business; Accounting Best Practices; Accounting Control Best Practices; Billing and Collections Best Practices; Business Ratios and Formulas; Controller's Guide to Costing; Controller's Guide to Planning and Controlling Operations; Controller's Guide: Roles and Responsibilities for the New Controller; Controllership; Cost Accounting; Design and Maintenance of Accounting Manuals; Essentials of Payroll; Fast Close; Financial Analysis; GAAP Guide; GAAP Implementation Guide; Inventory Accounting; Inventory Best Practices; Just-in-Time Accounting; Managing Explosive Corporate Growth; Outsourcing; Payroll Accounting; Payroll Best Practices; Sales and Operations for Your Small Business; The Controller's Function; The New CFO Financial Leadership Manual; The Ultimate Accountants' Reference. Also: Advanced Accounting Systems (Institute of Internal Auditors); Run the Rockies (CMC Press).
See More