Professional ASP.NET 2.0 AJAX
ISBN: 978-0-470-10962-5
Paperback
336 pages
June 2007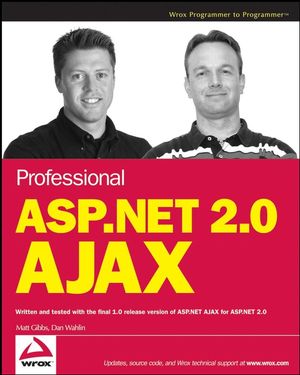 This title is out-of-print and not currently available for purchase from this site.
Matt Gibbs
is currently the development manager of the UI Framework and Services Team. This talented group is responsible for ASP.NET and the AJAX Framework as well as the new Integrated Pipeline of IIS 7. Matt has been working on Microsoft web technologies since joining the IIS 4 team to work on "classic" ASP in 1997. He has co-authored several books on ASP and ASP.NET.
Dan Wahlin (Microsoft Most Valuable Professional for ASP.NET and XMLWeb Services) is a .NET development instructor at Interface Technical Training (http://www.interfaceTraining.com). Dan founded the XML for ASP.NET Developers Website (www.XMLforASP.NET), which focuses on using XML, ADO.NET, and Web Services in Microsoft's .NET platform. He's also on the INETA Speakers Bureau and speaks at several conferences. Dan has co-authored/authored several different books on .NET, including ASP.NET 2.0 MVP Hacks and XML for ASP.NET Developers. When he's not writing code, articles, or books, Dan enjoys writing and recording music and playing golf and basketball with his wife and kids. Dan regularly blogs at http://weblogs.asp.net/dwahlin and http://blogs.interfacett.com/dan-wahlins-blog.
More By These Authors