Hacking World of Warcraft
ISBN: 978-0-470-11002-7
Paperback
408 pages
June 2007
US $29.99

Add to Cart
This price is valid for United States. Change location to view local pricing and availability.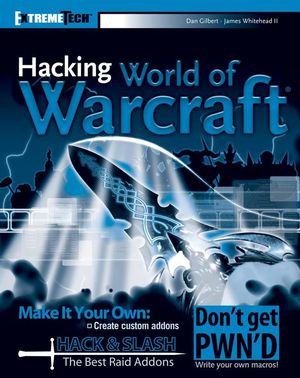 Dan Gilbert
is the creator and developer of the Atlas addon for World of Warcraft. He also maintains atlasmod.com and the forums there, and encourages you to stop by and say hi.When he actually has time to play WoW, you can find him on the Jaedenar server as Razark (his Shaman) or Nine (his Mage). Dan also sometimes works as a web developer, a graphic artist, and a cinematographer. He designs T-shirts at threadless.com, where his designs "I Heart Color" and "Release" have been printed.
Dan recently graduated from Hampshire College in Amherst, MA where he studied film production. For his thesis project (or Div III) he created a film called
The Nightingale Princess
with his co-conspirators, Christopher Dreisbach and Owen Granich-Young. The three of them have websites at thenightingaleprincess.com and ocdproductions.net. So far the movie hasn't gotten into any festivals, but Dan has his fingers crossed. He currently lives in Northampton, MA. In his spare time, he enjoys sleeping.
Jim Whitehead has been an active member of the UI community since December 2004. He initially became an active developer on WatchDog unit frames, and eventually created PerfectRaid and Clique, and spearheaded the creation of the Dongle addon framework.When he's not developing addons for World of Warcraft, he can be found playing the game with one of his many characters on the Stormrage server.
Jim is a graduate of Syracuse (NY) University, holding an MSc in computer science. Although he has been a resident of cubicle-land for the past few years, he will soon retreat to the halls of academia to pursue his PhD in computer science. He lives in Syracuse, where he spends a disproportionate amount of his life's savings on keeping his house warm.
More By These Authors