The Encyclopedia of Psychological Trauma
ISBN: 978-0-470-11006-5
752 pages
October 2008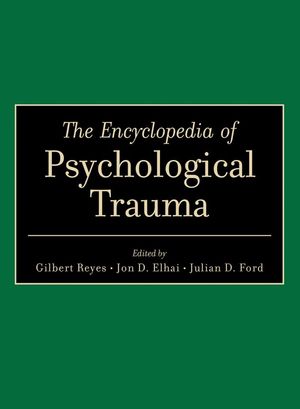 The Encyclopedia of Psychological Trauma is the only authoritative reference on the scientific evidence, clinical practice guidelines, and social issues addressed within the field of trauma and posttraumatic stress disorder. Edited by the leading experts in the field, you will turn to this definitive reference work again and again for complete coverage of psychological trauma, PTSD, evidence-based and standard treatments, as well as controversial topics including EMDR, virtual reality therapy, and much more.
See More
Preface.
Guide for readers.
Acknowledgments.
Editorial Board.
Advisory Board.
Editorial Assistants.
Contributors.
A - W.
Author Index.
Subject Index.
See More
"This work will serve as a clear, useful reference for those in the field of traumatic stress studies. Comprehensive subject/author index. Summing Up: Highly recommended." (
Choice Reviews
, May 2009)
"In simple, nontechnical language, this resource outlines the nature and description of psychological trauma, its impact and sociopolitical effects, its prevention and treatment, current research, professional organizations, and government policies. Each entry ranges from three to five pages and contains a useful list of references to journal articles, books, or web sites. The volume allows systematic access to topics through its alphabetic arrangement and an excellent subject and author index. This single-volume work, therefore, fills an important research gap and will prove valuable to students, clinicians, educators, policy makers, and other interested persons. Highly recommended." (Library Journal, February 15, 2009)
"This high-quality, broad-ranging volume. . . provid[es]authoritative, factual information about psychological trauma… needed to inform media reports, fictional representations, public opinion, political and governmental laws and policies, and the educational system for people across the life span, and in scientific and professional efforts to assist trauma survivors.  This informative collection is a "must-read" for all those interested in understanding psychological trauma."
–
Annette M. La Greca
, University of Miami Editor,
Journal of Consulting and Clinical Psychology
and Editorial Board Member of the
Journal of Anxiety Disorders
,
Journal of Traumatic Practice
, and many other peer review journals
"With contributions from many national experts, this user-friendly comprehensive volume is a must for clinicians, researchers, and educators working in the area of trauma."
–Betty Pfefferbaum, M.D., J.D. Chairman, Department of Psychiatry and Behavioral Sciences University of Oklahoma Health Sciences Center Director, Terrorism and Disaster Center of the National Child Traumatic Stress Network
"The Encyclopedia of Psychological Trauma (EPT) is an imposing volume that covers an impressively comprehensive constellation of topics. The intense effort the editors have invested in recruiting top experts in a broad range of specialty areas and ensuring top quality content is evident throughout. Professionals whose work is related to psychological trauma will undoubtedly find EPT to be an invaluable tool that they will want to keep within easy reach, whether to quickly absorb a subject that is new to them or to review an already familiar area."
–Steven N. Gold, PhD, Professor, Center for Psychological Studies Director, Trauma Resolution & Integration Program (TRIP) Nova Southeastern University
"This comprehensive volume does a remarkable job of bringing together scholarly summaries about the vast array of issues pertaining to the study of traumatic events and their psychological consequences. The chapters are worthy stand-alone contributions, but even better, together they provide a state-of-the-science summary of the field that should be of interest to novices and experts alike."
–Sandro Galea, MD, DrPH, Professor of Epidemiology, School of Public Health Research Professor, Institute for Social Research University of Michiga
See More