E-book
Introducing Maya 5: 3D for Beginners
ISBN: 978-0-470-11322-6
360 pages
December 2006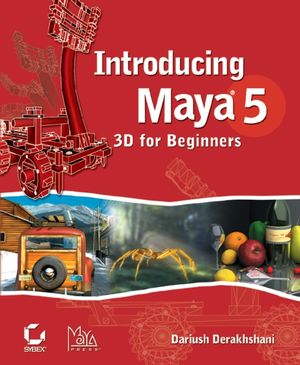 Alias Wavefront's Maya is the premier tool for 3D modeling, animation, and rendering. It is used by such film houses as Industrial, Light & Magic, Pixar, and Disney for creating 3D animation and special effects. This Maya Press title—a cooperative publication between Sybex and Alias Wavefront—is the perfect introduction to 3D and Maya.
Note: CD-ROM/DVD and other supplementary materials are not included as part of eBook file.
See More
Foreword.
Introduction.
Chapter 1: Introduction to Computer Graphics and 3D.
Chapter 2: The Maya Interface.
Chapter 3: Your First Maya Animation.
Chapter 4: Modeling with NURBS.
Chapter 5: Modeling with Polygons.
Chapter 6: Further Modeling Topics.
Chapter 7: Maya Shading and Texturing.
Chapter 8: Introduction to Animation.
Chapter 9: Further Animation Topics.
Chapter 10: Maya Lighting.
Chapter 11: Maya Rendering.
Chapter 12: Maya Dynamics.
Index.
See More
Dariush Derakhshani is a senior CGI effects animator with Sigh Effects in Venice, CA, working on award-winning national TV commercials. He has won the Bronze Plaque from the Columbus Film Festival and has shared honors from the AICP and London International Advertising Awards. He was a Supervising Technical Director for the South Park TV series, and also teaches Maya and animation at a variety of schools. He is a contributing author to Maya 4.5 Savvy and Maya: Secrets of the Pros.
See More