E-book
Mac Digital Photography
ISBN: 978-0-470-11328-8
287 pages
December 2006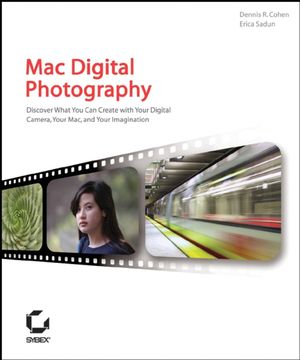 "this book is an excellent resource for the beginning digital photographer."
—
MacCompanion
The Essential Companion to Your Digital Camera and Your Mac
You'll be amazed at what you can create with your digital camera and your Mac. Whether you're making striking portraits or hilarious montages, this book provides the essential tools, techniques, and advice to turn you into a photo pro. Written by two Mac and digital photography experts, Mac Digital Photography explores everything essential to snapping, enhancing, and sharing great digital images.
Inside you'll find expert techniques for refining your photo-taking techniques, editing and repairing your images, choosing the right camera peripherals, using your photos for fun craft projects, and sharing your creations with others across the globe or across the room.
Mac Digital Photography teaches you how to:
Snap high-quality photographs by concentrating on composition, lighting, and posing
Enhance your images and fix picture flaws with Photoshop Elements 2 and iPhoto
Create panoramas, 3D images, and poster-sized photographs
Get crafty—use your photos for T-shirts, calendars, greeting cards, tattoos, and more
Share your photos via e-mail and the Web
Make DVDs, picture CDs, and video CD slide shows
Perform special effects such as warping, morphing, and animation
Note: CD-ROM/DVD and other supplementary materials are not included as part of eBook file.
See More
Introduction.
Chapter 1: Composition, Lighting, and Posing: Some Tried-and-True Advice.
Chapter 2: Digital Camera Equipment.
Chapter 3: An Introduction to iPhoto and Photoshop Elements.
Chapter 4: Digital Photo Editing.
Chapter 5: New Viewpoints: Postprocessing Your Images.
Chapter 6: Digital Photo Printing.
Chapter 7: Photos on CDs and DVDs.
Chapter 8: Share Your Pictures.
Chapter 9: Digital Camera Versatility.
Chapter 10: Digital Camera Crafts.
Chapter 11: Photo Transformation Projects.
Chapter 12: Just for the Fun of It: Digital Photo Projects.
Appendix: Field Guide to Online Photo Finishing and Album Sites.
Glossary.
Index.
See More
Dennis R. Cohen
has coauthored many books on Apple programs and technology, including the
iLife Bible
, the
iTunes, iPhoto, iMovie, & iDVD Bible
, the
Macworld OS X Bible
, and the
Macworld Office 2001 Bible
.
Erica Sadun is an imaging expert and a prominent member of the Macintosh community. Her books for Sybex include the best-selling Digital Photography Essentials: Point, Shoot, Edit, Share, and the upcoming iMovie 3 Solutions: Tips, Tricks, and Special Effects.
See More
Learn more about