E-book
PC Chop Shop: Tricked Out Guide to PC Modding
ISBN: 978-0-470-11332-5
210 pages
December 2006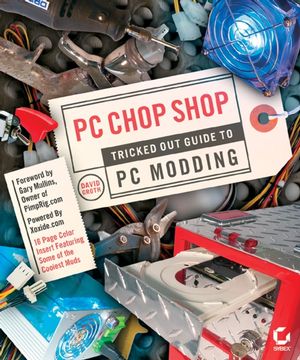 Learn How To Soup Up and Customize Your PC and Really Make It Your Own
Unimpressed by how the commonplace beige or gray computer looks and performs? Want to apply a personal touch to your PC so it reflects your own sense of style? You can make it glow, fill it with water, paint your favorite emblem on the case, or ultimately transform it into a completely unique work of art. There are myriad ways you can make your PC distinct.
In PC Chop Shop, best-selling author and expert "Modder" David Groth empowers you to create original PC modifications by teaching you the essential modding skills and inspiring you with a showcase of the most imaginative ideas. Through clear, step-by-step instruction, you'll learn a variety of basic-to-advanced modifications, including how to:
Install lights--from neon to cold cathode to UV
Make and apply custom decals
Integrate windows and fan grilles in your case
Add LED's and lights to your drives
Modify the cooling systems for your case, memory, hard drive, and CPU
Experiment with water cooling, Peltier cooling, and phase change cooling
Enhance performance with CPU and memory overclocking
Deaden Sound
Personalize your keyboard, mouse, speakers, and monitor
Paint creative designs on metal and plastic
And much, much more!
See More
Introduction.
Chapter 1: The What, Why, and Who of Modification.
Chapter 2: Basic Modifications.
Chapter 3: Case Modification.
Chapter 4: Drive Modifications.
Chapter 5: Cooling Modifications.
Chapter 6: Performance Modifications.
Chapter 7: Peripheral Modifications.
Chapter 8: Painting.
Chapter 9: Other Modifications.
Index.
See More
David Groth, author of the Sybex's best-selling A+ Complete Study Guide, is a full-time author and consultant. Groth holds many technical certifications but spends most of his free time modding and hosting LAN parties. His specialty mods include a '57 Chevy and SWAT Hummer.
See More
Learn more about