Nonprofit Law for Religious Organizations: Essential Questions & Answers
ISBN: 978-0-470-11440-7
350 pages
March 2008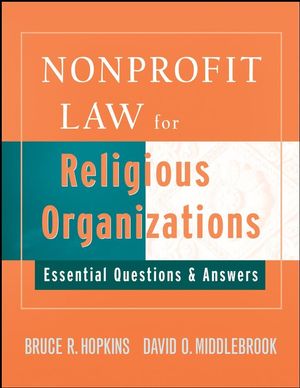 Nonprofit Law for Religious Organizations: Essential Questions & Answers is a hands-on guide to the most pertinent and critical legal issues facing those who lead and manage religious tax-exempt organizations with an emphasis on tax, employment, property and constitutional law. This timely book is a response to the need for guidance, direction, and clarification of legal and tax laws affecting churches and other religious organizations.
See More
Part I. Creation Of A Nonprofit Organization.
Chapter 1. Nonprofit Organizations – Generally.
Chapter 2. Governance: Principles And Documents.
Chapter 3. Religious Nonprofit Organizations And Churches – Generally.
Chapter 4. Administration Of A Congregational Church.
Chapter 5. The Board Of Directors.
Chapter 6. Conflicts Of Interest.
Chapter 7. Expenditure Of The Religious Nonprofit Organization's Funds.
Chapter 8. Acquiring Tax-Exempt Status.
Chapter 9. The Irs Annual Information Return.
Part II. Ministers, Employees, And Volunteers.
Chapter 10. Clergy, Ministers, And Pastors.
Chapter 11. Employee Rights.
Part III. Operation Of A Religious Nonprofit Organization.
Chapter 12. General Operations.
Chapter 13. Charitable Giving Rules.
Chapter 14. Combination Of Entities.
Chapter 15. Liability Of Religious Organizations.
Chapter 16. Insurance Coverage Considerations.
Chapter 17. Real Property And The Religious Nonprofit.
Chapter 18. Competition And Commerciality.
Chapter 19. Intellectual Property.
Chapter 20. Lobbying And Political Activities.
Chapter 21. Employee Compensation.
Chapter 22. Intermediate Sanctions.
Chapter 23. Unrelated Business Activities.
Chapter 24. Irs Audits Of A Religious Nonprofit Organizations.
Part IV. The Constitution, Religious Freedom, And Interaction With The Government.
Chapter 25. Protection Of Religious Liberties.
Chapter 26. Guidance On Partnering With The Federal Government.
See More
Bruce R. Hopkins is the country's leading authority on tax-exempt organizations and is a senior partner with the firm Polsinelli Shalton Flanigan Suelthaus PC. He is the author of twenty books, including The Law of Tax-Exempt Organizations, Ninth Edition (Wiley), and the magazine Bruce R. Hopkins' Nonprofit Counsel.
David O. Middlebrook is a senior partner with the firm of Anthony & Middlebrook, PC, whose clients include all types of charitable, religious, and educational organizations. He has authored numerous articles on religious nonprofit topics, and is a recipient of the national Gold Medallion book award in recognition of publishing excellence.
See More