Extreme Sudoku For Dummies
ISBN: 978-0-470-11627-2
360 pages
November 2006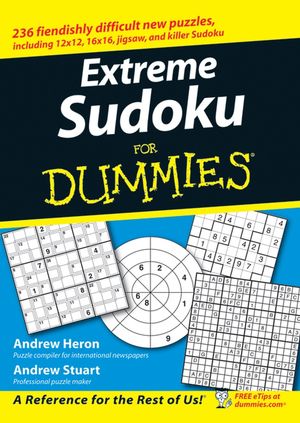 Have you worn out all of your pencils mastering ever-changing Sudoku puzzles? Have you stepped up your game to the next level and now seek something a little more demanding? Do you crave the challenge of more cunning, deadly Sudoku?
Extreme Sudoku For Dummies features 236 beyond diabolical puzzles to challenge even the most skilled expert—perfect for anyone who wants to be a true Sudoku master. In this book you will not only discover some amazingly tricky Sudoku puzzles, but also face new challenges in the form of Killer Sudoku, Irregular Sudoku, and other recently developed variations. And you won't need to rely on guesswork—you'll find an easy-to-understand, logical approach that will help you tackle even the most difficult puzzles in the book. Extreme Sudoku For Dummies offers:
An overview of Sudoku basics

Variations such as 9 x 9, 12 x 12, 16 x 16, jigsaw, circular, and killer puzzles

Useful strategies to filter out candidates and solve puzzles, one step at a time

The lowdown on advanced strategies such as Naked Pairs, Naked Triplets, Hidden  Pairs, X-Wing, Y-Wing, and other techniques

Time completion estimates so that you can use the clock to measure your progress and ability
Along with a wealth of puzzles that will test every Sudoku player's skill, Extreme Sudoku For Dummies provides the tips, tricks, advice, and strategies to help you become a true master of the game.
See More
Introduction.
Part I: Sudoku Strategy.
Chapter 1: Sudoku Strategies for Advanced Gamers.
Naked Pairs.
Naked Triplets.
Hidden Pairs.
Hidden Triplets.
Moving On with Intersection Removal.
Chapter 2: At Xs and Ys: X-Wings, Chains, and Rectangles.
The X-Wing Family.
Swordfish.
Linking Up the Chains.
Y-Wing.
XY Chains.
Unique Rectangles.
Chapter 3: Expanding Your Sudoku Repertoire.
Growing Sudoku.
Target Sudoku.
Jigsaw Sudoku.
Killer Sudoku: Almost Deadly.
Part II: Sudoku Puzzlemania.
9 × 9 Puzzles.
Jigsaw Puzzles.
Killer Puzzles.
Target Puzzles.
12 × 12 Puzzles.
16 × 16 Puzzles.
Part III: The Answer to Your Problems.
See More
Andrew Heron
compiles puzzles for newspapers around the globe and is the coauthor of previous
For Dummies
Sudoku books.
Andrew Stuart is a Sudoku expert and professional puzzle maker.
See More