AutoCAD 2008 For Dummies
ISBN: 978-0-470-11650-0
432 pages
April 2007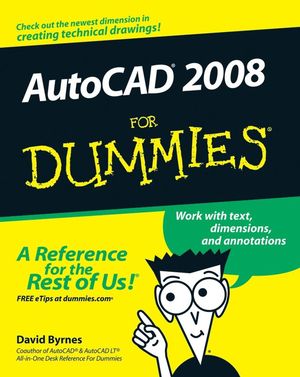 A gentle, humorous introduction to this fearsomely complex software that helps new users start creating 2D and 3D technical drawings right away
Covers the new features and enhancements in the latest AutoCAD version and provides coverage of AutoCAD LT, AutoCAD's lower-cost sibling
Topics covered include creating a basic layout, using AutoCAD DesignCenter, drawing and editing, working with dimensions, plotting, using blocks, adding text to drawings, and drawing on the Internet
AutoCAD is the leading CAD software for architects, engineers, and draftspeople who need to create detailed 2D and 3D technical drawings; there are more than 5 million registered AutoCAD and AutoCAD LT users
See More
Introduction.
Part I: AutoCAD 101.
Chapter 1: Introducing AutoCAD and AutoCAD LT.
Chapter 2: Le Tour de AutoCAD 2008.
Chapter 3: A Lap around the CAD Track.
Chapter 4: Setup for Success.
Part II: Let There Be Lines.
Chapter 5: Get Ready to Draw.
Chapter 6: Where to Draw the Line.
Chapter 7: Edit for Credit.
Chapter 8: A Zoom with a View.
Chapter 9: On a 3D Spree.
Part III: If Drawings Could Talk.
Chapter 10: Text with Character.
Chapter 11: Entering New Dimensions.
Chapter 12: Down the Hatch.
Chapter 13: The Plot Thickens.
Part IV: Share and Share Alike.
Chapter 14: Playing Blocks and Rasteroids.
Chapter 15: Drawing on the Internet.
Part V: The Part of Tens.
Chapter 16: Ten Ways to Do No Harm.
Chapter 17: Ten Ways to Swap Drawing Data with Other People and Programs.
Index.
See More
David Byrnes is one of those grizzled old-timers you'll find mentioned every so often in AutoCAD 2008 For Dummies. He began his drafting career on the boards in 1979 and discovered computer-assisted doodling (you always wondered what CAD stood for, didn't you?) shortly thereafter. He first learned AutoCAD with version 1.4, around the time when personal computers switched from steam to diesel power. Dave is based in Vancouver, British Columbia, and has been an AutoCAD consultant and trainer for 15 years, in which time he has been a contributing author to ten books on AutoCAD. He teaches AutoCAD and other computer graphics applications at Emily Carr Institute of Art + Design and British Columbia Institute of Technology in Vancouver. Dave was the technical editor for four AutoCAD For Dummies and two AutoCAD LT For Dummies titles.
See More