Whiskey and Spirits For Dummies
ISBN: 978-0-470-11769-9
364 pages
November 2007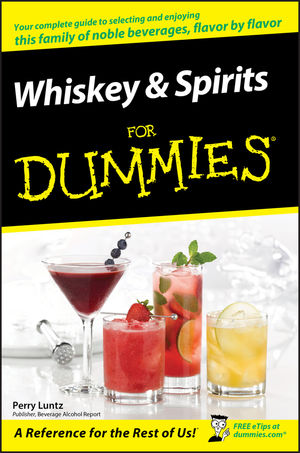 Would you like to better appreciate fine distilled spirits?
Whiskey & Spirits For Dummies
is your complete guide to selecting and enjoying this family of noble beverages, flavor by flavor. From whiskey, rum, and brandy to vodka, gin, and cordials, this handy reference traces the history of distilled spirits, explains how they are made, and shows you how to evaluate, serve, and savor them.
Ever wonder why the Irish spell it "whiskey" and the Scottish "whisky"? This friendly book tells you as it reveals where the first whiskeys — or "dark" spirits — originated and how they came to the United States. It also explores the origins of clear spirits and the different varieties of each. You'll compare American and European vodkas, see how to make the new and improved all-purpose Martini, and follow the spread of flavored rums across the globe. A slew of sidebars give you fascinating tidbits of information about these spirits. You'll also discover how to:
Become a sophisticated taster
Shop for the best spirits
Select the right mixers
Use spirits in cooking
Make ten classic cocktails
Choose and taste cordials and liqueurs
Know the nutrients in one serving of each type of distilled spirit
Present spirits to guests
Set up tasting events at home
This thorough guide also features recipes for cooking with spirits, offering menu choices such as entrees, vegetables, and desserts that all include at least one type of spirit. Complete with an appendix of craft distillers across the United States, Whiskey & Spirits For Dummies will give you the knowledge and hands-on guidance you need to become a connoisseur of such greats as fine Scotch, Bourbon, and Cognac in no time!
See More
Introduction 1
Part I: Entering the Spirits World 7
Chapter 1: Discovering Distilled Spirits 9
Chapter 2: How Distilled Spirits Are Created 23
Chapter 3: Enjoying Spirits 43
Part II: Whiskeys from Around the World 59
Chapter 4: Sipping the Irish Whiskeys 61
Chapter 5: Saluting the Scots 79
Chapter 6: American Cousins: Bourbon and Tennessee Whiskey 97
Chapter 7: More Whiskeys from America and Other Parts of the World 115
Chapter 8: Channeling the Canadians 131
Part III: Surfing the White Waters: A Guide to "Clear" Spirits 147
Chapter 9: Getting the Goods on Gin 149
Chapter 10: Vodka: Toasting the Russians 169
Chapter 11: Tequila: Unearthing the Aztecs 191
Chapter 12: Yo Ho Ho and a Bottle of Rum 209
Part IV: Enjoying the "After Dinner" Specials 231
Chapter 13: Cultivating Brandy 233
Chapter 14: Collecting Cordials, Lining Up Liqueurs 255
Part V: The Part of Tens 275
Chapter 15: Ten (or so) Classic Spirits Cocktails 277
Chapter 16: Ten Spirited Dishes 291
Chapter 17: Ten Nutrition Profiles of Alcohol Beverages 303
Chapter 18: Ten (or so) Health Benefits of Moderate Drinking 307
Index 317
See More
Perry Luntz has been involved in one way or another with the beverage alcohol business most of his adult life. For more than 20 years he has been publisher and editor of Beverage Alcohol Market Report, an international e-letter for marketing executives in beer, wine, and spirits. He served as Director of Marketing Communications for Seagram Distillers for a decade, worked on the creative side of several advertising agencies, including a spell as a creative director of a Young & Rubicam division, and for several years headed his own marketing communications agency.
A consultant, lecturer, teacher, and news media source, Perry is frequently interviewed in newspapers, radio, and television, including the BBC. He is chairman emeritus of the Wine Media Guild, proving he knows his way around vineyards and breweries, as well as distilleries.
Like many native New Yorkers, Perry is a political junky. He served several years as president of a highly regarded NYC political club.
For the past decade, Perry has been Senior Editor of the Beverage Media Group, a network of trade magazines read by 140,000 licensed retailers. He also writes a weekly column for the group's B-to-B Internet site.
See More