New Payment World: A Manager's Guide to Creating an Efficient Payment Process
ISBN: 978-0-470-12054-5
Hardcover
208 pages
July 2007
US $57.95

Add to Cart
This price is valid for United States. Change location to view local pricing and availability.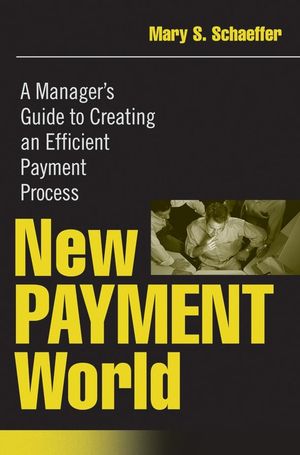 Other Available Formats:
E-book
Preface.
PART ONE. PAYMENT OVERVIEW.
Chapter 1. Payment Arena Yesterday, Today, and Tomorrow.
Payment World Yesterday.
Payment World Today.
Payment World Tomorrow.
An Emerging Issue: Payment Control.
Chapter 2. Payment Problems and Issues Facing the Corporate World.
Float.
Early Payment Discounts.
Payment Terms: Theirs, Ours, and Reality.
Supplier Demand Regarding Payment Tools.
Cost of Producing a Check.
Duplicate Payments.
Sarbanes-Oxley and Internal Controls.
Check 21 and Its Impact.
Corporate Cost Cutting Initiatives.
Changes in the UCC.
Impact of Check and Employee Fraud.
Chapter 3. International Payments and Letters of Credit.
Differences between Domestic and International Exchanges.
International Wires.
Small One Time Expenditures.
Currency Issues.
Letters of Credit.
UCP 500.
ISP98.
New Standby Letters of Credit Rules.
Types of Letters of Credit.
VAT.
PART TWO. PAYMENT TOOLS.
Chapter 4. Paper Checks.
Check Problems.
Ideal (Best Practice) Check Issuance Scenario.
Check Storage.
Check Stock.
Why Returning Checks Can Be a Problem.
A Word about Bank Statement Reconciliation.
Really Bad Check Practices.
Chapter 5. Traditional Electronic Methodology: Wire Transfers and Financial EDI.
Wire Transfers.
Financial Edi.
Chapter 6. P-cards.
Background.
Rebates.
How the P-Card Process Should Work.
Individual Limits.
1099 Reporting.
Palmer P-Card 2005 Survey: Highlights.
Common P-Card Pitfalls.
Data.
Fraud Prevention.
Chapter 7. Other Credit Cards Organizations Use to Pay Bills.
Fuel Cards.
T&E Cards.
Why Fuel and T&E Cards Make Sense.
One Cards.
Pushing the P-Card Envelope: Variants on the Basic Card.
Chapter 8. e-Payments (Direct Payments).
Automated Clearing House Network.
Ach Payment Growth.
Types of Ach Payments.
Issues to Consider.
Best Practices to Avoid Ach Payment Conversion Nightmares.
Use Ach Payments to Solve the Rush Check Problem.
Chapter 9. Other Payment Initiatives.
Integrated Payment Product.
Other Features Of Integrated Payment Products.
Special Ach Features.
Different Nomenclature.
E-Payables.
Procure-To-Pay Solutions.
Other Small Dollar Payments.
Petty Cash Box.
PART THREE. INITIATIVES TO MAKE PAYMENT OPERATIONS MORE EFFICIENT.
Chapter 10. Starting a P-card Program.
Planning Stage.
Finding a Good Service Provider.
Policy and Procedures Manual.
Pilot Program.
Evaluating the Program.
Managing the Program.
Auditing the Program.
End-User Training.
Ensuring Usage.
Keys to Success.
Potential Problems.
Chapter 11. Expanding a P-card Program.
Information to Grow Your Program.
AICPA P-Card Survey.
Tips.
Share the Wealth.
Caveat.
Chapter 12. Starting an e-Payment Program.
Background.
How Programs Get Started.
Benefits.
The First Step.
A Good Starting Point.
Third-Party Participation.
Replacing Wire Transfers with Ach Payments.
Before Rolling Out to Your Entire List.
Vendor Participation.
Document, Document, Document.
Train, Train, Train.
Don't Overlook Metrics.
Vendor Satisfaction Survey.
Chapter 13. Expanding an e-Payment Program.
Market Status.
Techniques to Grow Your E-Payment Program.
Renegotiating Payment Terms.
Pricing Discounts.
Improved Terms versus Pricing Discounts.
Universal Payment Identification Code.
Chapter 14. Integrated Payment Program.
Why Not Stick With Checks?
Sample Program.
Getting Started.
Establishing the Plan.
Other Factors to Consider.
Statements.
Ways to Efficiently Handle Small Dollar Items.
Assumed Receipt/Negative Assurance.
How Organizations Prevent Duplicate Payments.
Multiple Mechanisms and Duplicate Payments.
Chapter 15. Outsourcing.
P-Cards.
Check Printing Outsourcing.
Other Commonly Outsourced AP Functions.
Internal Controls of the Outsourcer.
Using the Reports.
References.
Beta Sites.
Convergence Factor.
Outsourcing versus Automation.
Is It Outsourcing or Not?
Implications.
Chapter 16. Check fraud: Prevention Tools and Techniques.
History.
The Law.
Impact.
Best Positive Pay Practice.
Positive Pay and Its Cousins.
Your Checks.
Care of Check Stock.
Other Check Safety Issues.
Reconciliation.
Segregation of Duties.
Master Vendor File and Check Fraud.
Chapter 17. ACH Fraud: Prevention Tools and Techniques.
Ach Blocks.
Ach Filters.
Ach Positive Pay.
Who's Offering What Today.
Demand Draft Fraud.
Chapter 18. Concluding Thoughts.
Selecting the Best Tool.
Netting.
Credits.
Making Your Payment Process Most Efficient.
Where to Get More Information.
Index.