How to Create and Manage a Mutual Fund or Exchange-Traded Fund: A Professional's Guide
ISBN: 978-0-470-12055-2
351 pages
October 2017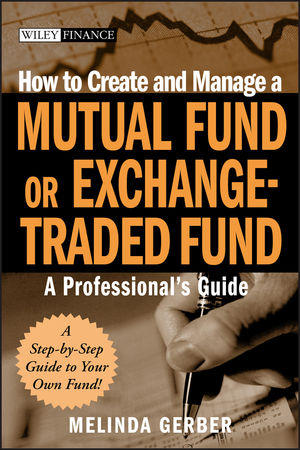 With this book, author Melinda Gerber walks you through the twenty-nine steps needed to start a mutual fund and the thirty-six steps needed to start an ETF. She provides costs and detailed explanations of how to accomplish each task from fledgling idea to the actuality of selling shares, and also takes the time to explain the importance of creating a clear vision for your fund as well as how to successfully profile customers and identify your competition.
See More
Preface.
Acknowledgments.
About the Author.
Part I. Create and Manage a Mutual Fund.
Chapter 1. Why the World Needs Another Mutual Fund.
Chapter 2. Money, Product Differentiation and Distribution.
Chapter 3. Price and Customer Service.
Chapter 4. Spreading the Word with Promotion and Publicity.
Chapter 5. Building Your Mutual Fund Team.
Chapter 6. The Steps to Start a Mutual Fund.
Part II. Create and Manage an Exchange-Traded Fund.
Chapter 7. ETFs: The Mutual Fund's Next Evolution.
Chapter 8. Building Your Exchange-Traded Fund Team.
Afterword.
Appendix A. What to Expect in Your First Year.
Appendix B. Selling Your Business.
Appendix C.
Appendix D. List of Service Provider Questions.
Notes.
Index.
See More
Melinda Gerber, MBA, has served as the secretary on the board of directors for the Ameristock Corporation and Ameristock Mutual Fund, and concurrently worked as a project manager and consultant at GAP, Inc. During her tenure at GAP, Inc., she was recognized as one of the five most innovative individuals in the company. Gerber earned an MBA from the University of Southern California and a BS from the University of California, Santa Barbara.
See More