E-book
CompTIA A+ Certification All-In-One Desk Reference For Dummies
ISBN: 978-0-470-12111-5
1138 pages
March 2007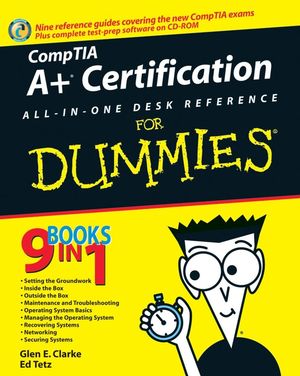 At the end of 2004, more than 600,000 people had received CompTIA's vendor-neutral A+ certification, a key credential for anyone pursuing a career as a computer technician
This competitively priced new guide offers seven minibooks and 1,000+ pages covering every aspect of the two required A+ exams, plus customizable test-prep software on CD-ROM
Minibooks provide a thorough review of all the hardware and operating system topics tested in the exams: installation, configuration, and upgrading; diagnosing and troubleshooting; preventive maintenance; motherboards, processors, and memory; printers; networking; and operating system fundamentals
Published day-and-date with the CompTIA's latest revision of the A+ exams
Note: CD-ROM/DVD and other supplementary materials are not included as part of eBook file.
See More
Introduction.
Book I: Setting the A+ Groundwork.
Chapter 1: The New A+ Exams.
Chapter 2: A+ Soft Skills.
Chapter 3: Protecting Yourself and Your PC.
Chapter 4: An Overview of System Components.
Book II: Inside the Box.
Chapter 1: Knowing Your Motherboard.
Chapter 2: Picking Your Processor.
Chapter 3: What to Remember about Memory.
Chapter 4: Telling Your BIOS from Your CMOS.
Chapter 5: Working with Storage.
Chapter 6: Working with Power.
Book III: Outside the Box.
Chapter 1: Ports, Cables, and Connectors.
Chapter 2: Installing and Configuring Input Devices.
Chapter 3: Installing and Configuring Output Devices.
Chapter 4: Examining System Resources.
Chapter 5: Managing Printers.
Chapter 6: Working with Multimedia Devices.
Chapter 7: Dealing with Portable Computers.
Book IV: Maintenance and Troubleshooting.
Chapter 1: Performing Preventative Maintenance.
Chapter 2: Troubleshooting Procedures and Guidelines.
Book V: Operating System Basics.
Chapter 1: Comparison of Major Operating Systems.Chapter 2: Operating System Functions.
Chapter 3: Installing and Upgrading Windows.
Chapter 4: Managing Files and Directories.
Chapter 5: Command Prompt Procedures.
Chapter 6: Working with System Files and the Boot Process.
Book VI: Managing the Operating System.
Chapter 1: Loading and Configuring Device Drivers.
Chapter 2: Working with Applications.
Chapter 3: Optimizing the Windows Environment.
Chapter 4: Using Windows-Based Troubleshooting Utilities.
Book VII: Recovering Systems.
Chapter 1: Managing Error Codes and Startup Messages.
Chapter 2: Managing Common Problems.
Chapter 3: Preparing for Disasters with Disaster Recovery.
Book VIII: Networking.
Chapter 1: Down to the Networking Basics.
Chapter 2: Understanding Common Wireless.
Chapter 3: Networking the Operating System.
Chapter 4: Configuring Internet Access.
Book IX: Securing Systems.
Chapter 1: Fundamentals of Security.
Chapter 2: Implementing Security.
Chapter 3: Viruses and Malicious Software.
Appendix A: About the CD.
Appendix B: CompTIA A+ Exam Reference Matrix.
Index.
See More
Glen E. Clarke (MCSE/MCSD/MCDBA/MCT/CIW SA/Security+/Network+/A+)
is an independent trainer and consultant, focusing on network security and security auditing services. Glen spends most of his time delivering certified courses on A+, Network+, Windows Server 2003, SQL Server, Exchange Server, Visual Basic .NET, and ASP.NET. Glen also teaches a number of security related courses covering topics such as vulnerability testing, firewall design, and packet analysis.
Glen is an experienced author and technical editor who has worked on nine certification books. Glen designed and coauthored the award nominated
A+ Certification Bible
and has worked on certification titles involving topics such as Windows 2000/2003 certification, CIW certification, Network+ certification, and Security+ certification. When he's not working, Glen loves to spend quality time with his wife, Tanya, and their three children, Sara, Brendon, and Ashlyn. He is an active member of the martial arts community, where he currently holds his first-degree black belt in Tae Kwon Do. You can visit Glen online at www.gleneclarke.com, or contact him at glenclarke@accesswave.ca.
Ed Tetz graduated in 1990 from Saint Lawrence College in Cornwall, Ontario with a degree in Business Administration. He spent a short time in computer sales, which eventually led to a computer support position. After several years of providing system and LAN support to small and large organizations, in 1994 he added training to his repertoire. He holds certifications for A+, ITIL Foundations Certificate in IT Service Management (IT Infrastructure Library), Microsoft Certified Trainer (MCT), Microsoft Certified Systems Engineer (MCSE), Microsoft Certified Database Administrator (MCDBA), and Chauncey Group's Certified Technical Trainer (CTT). Since 2002, he has been a full-time consultant for a value added reseller in Halifax, Nova Scotia. Over his years of work experience, he has supported Apple Macintosh, IBM OS/2, Linux, Novell NetWare, and all Microsoft operating systems from MS-DOS to Windows Vista, as well as hardware from most of the major vendors. He welcomes comments from his readers and can be contacted at ed_tetz@hotmail.com, if you are not trapped by the junk mail filters, or info@edtetz.net.
See More