Hermit Crabs For Dummies
ISBN: 978-0-470-12159-7
96 pages
April 2007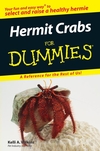 How-to guidance on raising a happy, healthy hermit crab
Among the more unusual pets, hermit crabs are popular and easy to buy. They have distinct personalities, are active and curious, and their unique characteristics and low maintenance requirements make them good pets. This handy guide gives readers reliable advice on choosing a healthy hermit crab, selecting the proper housing, and bringing it home. It provides plenty of tips on feeding and health care, as well as having fun with a hermit crab (such as taking part in hermit crab races!).
See More
Chapter 1: Choosing Crustaceans: All About Hermit Crabs.
Chapter 2: Is a Hermit Crab Your Perfect Pet?
Chapter 3: Buying Healthy Hermit Crabs.
Chapter 4: Creating a Comfy Crabitat.
Chapter 5: Caring for Your Hermit Crabs.
Chapter 6: Getting to Know Your Hermits.
Chapter 7: Keeping Hermie Healthy.
Ten Hermit Web Sites.
Nearly Ten Fun Hermie Activities.
Index.
See More
Kelli A. Wilkins (Woodbridge, NJ) is a freelance writer and hermit crab owner. She is a former editor of Reptile & Amphibian Hobbyist magazine.
See More