E-book
Advances in Enzymology and Related Areas of Molecular Biology, Volume 74, Part B, Mechanism of Enzyme Action
ISBN: 978-0-470-12398-0
392 pages
September 2009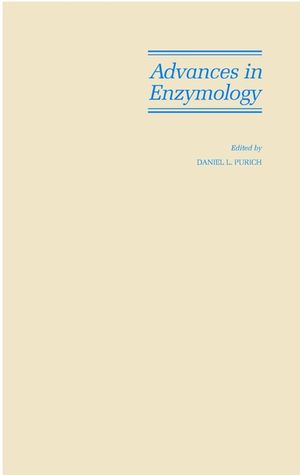 The Advances in Enzymology and Related Areas of Molecular Biology Series is one of the most prestigious in the field, devoted to the latest trends in molecular biology and enzymology. Each volume of the series contains contributions from leading authorities in the field. Under Dr. Purich's editorship, which began with volume 72, the series has expanded its coverage to include thematic volumes focusing on specific research areas, as well as non-thematic volumes consisting of chapters with a more general appeal.
See More
Heterotrophic Assimilation of Carbon Dioxide (C. Werkman & H. Wood).

Phosphotriesterase: An Enzyme in Search of a Substrate (F. Raushel & H. Holden).

Phosphoribulokinase: Current Perspectives on the Structure/Function Basis for Regulation and Catalysis (H. Miziorko).

The Molecular Evolution of Pyridoxal-5'-Phosphate-Dependent Enzymes (P. Mehta & P. Christen).

O-Acetylserine Sulfhydrylase (C.-H. Tai & P. Cook).

The Aromatic Amino Acid Hydroxylases (P. Fitzpatrick).

L-Aspartase: New Tricks from an Old Enzyme (R. Viola).

Indexes.
See More
The primary audience for this book is both new real estate agents and established agents interested in increasing their business.   A secondary audience may be anyone looking for listing and sales advice who has decided to try to sell his home by himself.
See More