Textbook
A Meeting Planner's Guide to Catered Events
ISBN: 978-0-470-12411-6
324 pages
October 2008, ©2009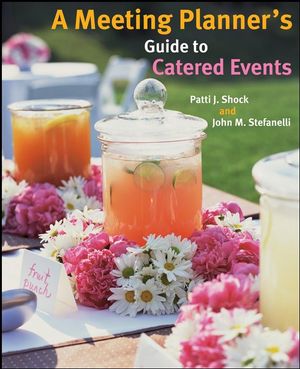 Food and beverage is the largest portion of a meeting budget, but most meeting and event planners have no formal background in purchasing and managing this expense. This guide helps event, meeting, and convention planners save money, negotiate contracts, deal with catering managers, and successfully manage the food and beverage aspect of their event. Covering everything from styles of service to on-premise and off-premise considerations to food and beverage contract negotiation, this book is a comprehensive and accessible reference for event planners and students.
See More
Preface vii
Chapter 1 The World of Catering 1
TYPICAL CATERERS YOU WILL DEAL WITH 5
CATERING STAFF YOU WILL GET TO KNOW 6
HOW CATERERS PRICE FOOD AND BEVERAGE EVENTS 9
CATERERS' OBJECTIVES 16
HOW CATERERS EVALUATE IF THEY ARE ACHIEVING THEIR OBJECTIVES 17
CREATIVITY 18
SCAMPER 20
WHICH CATERER IS RIGHT FOR YOU? 22
Chapter 2 Meal Functions 25
PURPOSE OF THE MEAL FUNCTION 26
MENU PLANNING 26
STYLE OF SERVICE 43
TYPES OF MEAL FUNCTIONS 49
Chapter 3 Beverage Functions 66
PURPOSE OF THE BEVERAGE FUNCTION 67
TYPES OF BEVERAGE FUNCTIONS 67
MENU PLANNING 70
ESTIMATING THE AMOUNT OF BEVERAGE ALCOHOL NEEDED 73
HOW MOST BEVERAGE FUNCTIONS ARE SOLD 75
BEVERAGE FUNCTION CHARGES 76
LABOR CHARGES 79
chapter 4 On-Premise and Off-Premise Catering 83
ON-PREMISE CATERERS 84
OFF-PREMISE CATERERS 90
chapter 5 Room Setups 103
APPEARANCE 104
LOCATION 106
UTILITIES 106
SPACE REQUIREMENTS 107
PLANNING THE FUNCTION ROOM SETUP 120
DINING ROOM LAYOUT 123
BAR LAYOUT 128
COFFEE STATION AND REFRESHMENT BREAK LAYOUT 130
BUFFET LAYOUT 131
TABLESCAPES: THE TABLETOP LAYOUT AND DECOR 139
WALL AND CEILING TREATMENTS 145
EMPLOYEE UNIFORMS 146
ROOM TEMPERATURE 146
ROOM SCENT 147
LECTERN OR PODIUM? 147
FLAG PLACEMENT 147
RESTROOM FACILITIES 148
PROPS AND OTHER DÉCOR 148
TENTS 149
chapter 6 Staffing the Events 154
PAYROLL EXPENSE 156
FOOD PRODUCTION PLANNING 157
SERVICE PLANNING 160
DEPARTMENTS THAT SUPPORT THE CATERER 172
chapter 7 Low-Cost Events 192
MARKET SEGMENTS 193
BUDGET CONSIDERATIONS 195
OTHER BUDGET OPTIONS 197
chapter 8 Deep-Market Events 211
ELABORATE THEME PARTIES 212
ELABORATE THEMED REFRESHMENT BREAKS 222
ELABORATE OUTDOOR PARTIES 224
chapter 9 Using Outside Suppliers 228
PROVIDING OTHER CLIENT SERVICES 229
AUDIOVISUAL 234
ENTERTAINMENT 239
LIGHTING 241
GROUND TRANSPORTATION 243
GOVERNMENT AGENCIES 244
COOPERATING WITH OTHER CATERERS 245
RENTAL COMPANIES 245
chapter 10 Contracts and Negotiations 248
BANQUET EVENT ORDER 250
RÉSUMÉ 254
CONTRACT 255
NEGOTIATIONS 279
Appendix 285
Glossary 291
Index 305
See More
Patti J. Shock
is a Professor in the Tourism and Convention Administration Department of the William F. Harrah College of Hotel Administration at the University of Nevada, Las Vegas.
John M. Stefanelli is a Professor in the Food and Beverage Department of the William F. Harrah College of Hotel Administration at the University of Nevada, Las Vegas.
See More
The only book on the market to cover the food and beverage considerations specific to event planners

Written by an industry authority who has spoken on the topic in the continuing education programs for Professional Convention Management Association, Meeting Professionals International, the International Association for Exposition Management, and the Convention Industry Council

Organized so there are chapters with information applicable to any type of catered event, including on-premise catering, off-premise catering, themed events, outdoor events, and the typical types of catered events

Includes a chapter on how to plan low-cost events as well as one for upscale, extravagant events

Includes material on the use of outside suppliers, contracts, and negotiating tips

Professional Advice text boxes throughout highlight some of the major challenges meeting planners face every day and present suggestions for solutions

Pedagogy includes Chapter Outlines, EOC Summary and Review Questions, and a key terms Glossary
See More
Instructors Resources
Request a print evaluation copy
Contact us

Contact your Wiley Representative
Find Your Rep

See More
See Less
Learn more about