Kids' Sudoku For Dummies
ISBN: 978-0-470-12447-5
288 pages
January 2007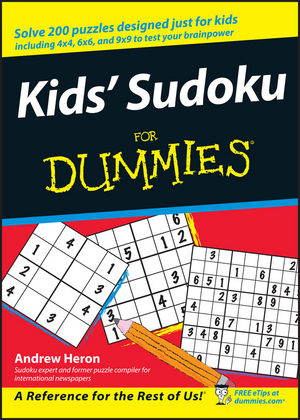 Sudoku puzzles have become a worldwide mania for adults, and now the craze is catching on with children, too. The puzzles are a perfect way for kids to develop their logic skills while still having fun. Psychologists have even found that an obsessive game such as Sudoku teaches children how to deal and live with stress.
Kids' Sudoku For Dummies features 200 puzzles for kids as young as 7 or 8 years old, ranging in difficulty from beginner to tricky mind bogglers to diabolical. It provides kid-level, step-by-step instructions on how to play the game and includes easy-to-understand ratings of all puzzles to denote the level of difficulty. The book features:
Basic sudoku rules explained with graphics and kid-level language

4 x 4, 6 x 6, and 9 x 9 puzzles of varying difficulty—with no math required

Simple symbols and letters to help engage kids to play

Kid-friendly tips and strategies for solving sudoku faster

Pencil graphics that show kids how easy or difficult each puzzle will be
All over the world, adults and children alike are testing their powers of concentration and their skills in this wildly popular game. Kids' Sudoku For Dummies will get your children involved with this excellent tool for building kids' critical thinking skills—while having lots of fun.
See More
Introduction.
Solving the First Puzzle.
About This Book.
Part I: Sudoku Strategy.
Chapter 1: One, Two, Let's Sudoku.
Basic Rules for 4×4 Puzzles.
Step It Up with a 6×6 Puzzle.
Hitting the Top: Solving 9×9 Puzzles.
Part II: Sudoku Puzzlemania.
Part III: The Answers to Your Problems.
See More
Andrew Heron was a Sudoku expert and puzzle compiler for newspapers around the globe. He was the coauthor of all three volumes of Sudoku For Dummies.
See More