The Performance Management Revolution: Business Results Through Insight and Action
ISBN: 978-0-470-12483-3
231 pages
November 2007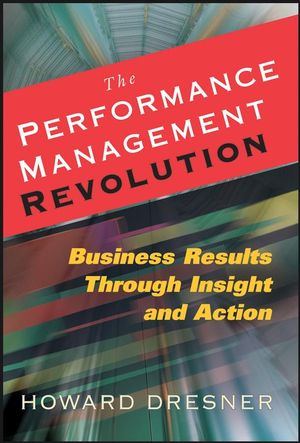 The Performance Management Revolution shows you how your business can get prepared for the future—transforming strategies into plans, plans into actions, and actions into results. Written by Howard Dresner, a worldwide authority in the area of business intelligence and performance management, this lucid book offers great insight into strategies that any company interested in improving its business performance and accountability could adopt. This visionary book provides an intelligent framework toward the path to better performance through insight and action.
See More
Foreword.
Preface.
Acknowledgements.
Part I. A Call to Arms.
Chapter 1. The Need for Change.
Chapter 2. A Model for a Modern Management System.
Chapter 3. The Role of BPM.
Chapter 4. Barriers to BPM Adoption.
Part II. Preparing for Battle.
Chapter 5. Draw an Accountability Map.
Chapter 6. Achieve Information Democracy.
Chapter 7. Build a BPM Center of Excellence.
Chapter 8. Standardize and Consolid ate BPM Tools.
Chapter 9. Deploy a BPM System.
Chapter 10. Comprehensive View of Performance Management.
Part III. Let the Revolution Begin.
Chapter 11. Determine Your Immediate Priorities.
Chapter 12. A Model BPM Methodology.
Chapter 13. Measuring Outcomes.
Afterword.
Appendix.
Glossary.
Index.
See More
HOWARD DRESNER is President of Dresner Advisory Services, LLC, an independent advisory firm, and is a recognized authority in the areas of business intelligence and performance management. Prior to his new venture, he spent thirteen years at Gartner, where he was a research fellow and lead analyst for business intelligence and served as chief strategy officer at Hyperion until the recent Oracle acquisition.
See More