E-book
Windows Vista Secrets
ISBN: 978-0-470-12838-1
672 pages
January 2007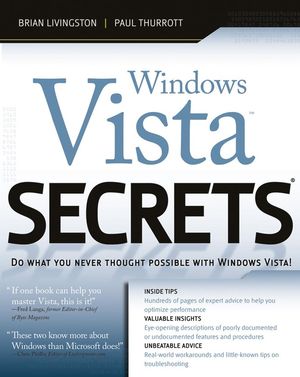 "If one book can help you master Vista, this is it." --Fred Langa, former editor-in-chief of Byte Magazine
"These two know more about Windows than Microsoft does." --Chris Pirillo, editor of Lockergnome.com
Go beyond Microsoft's Help guide and discover the true secrets of Windows Vista that are essential to power users. Written by two of the most recognized Windows authorities, this resource provides you with numerous tips, tricks, and undocumented features that aren't available anywhere else. You'll find extensive screenshots, tables, and illustrations that clearly show how to achieve optimal performance, fix desktop problems, and take advantage of the robust features of Windows Vista.
The Insider's Guide to
Installing and upgrading your system (see Chapter 2)
Quickly finding and organizing all of your files (see Chapter 5)
Taking advantage of new security features (see Chapter 8)
Creating your own movies and DVDs (see Chapter 12)
Playing state-of-the-art games with amazing effects (see Chapter 14)
Going wireless using Windows Vista mobility features (see Chapter 15)
Managing your schedule with Windows® Calendar (see Chapter 20)
See More
Read This First.
Part I: Surviving Setup.
Chapter 1: Selecting the Right Vista Version.
Chapter 2: Installing and Upgrading to Windows Vista.
Chapter 3: Vista Compatibility.
Part II: Understanding the Windows Vista User Experience.
Chapter 4: What's New in the Windows Vista User Interface.
Chapter 5: Where's My Stuff? Finding and Organizing Files.
Chapter 6: Using Windows Sidebar.
Chapter 7: Fonts.
Part III: Security.
Chapter 8: Windows Vista Security Features.
Chapter 9: New User Account Features.
Part IV: Digital Media and Entertainment.
Chapter 10: Windows Media Player 11.
Chapter 11: Enjoying Digital Photos.
Chapter 12: Making Movies and DVD Movies.
Chapter 13: Digital Media in the Living Room: Windows Media Center.
Chapter 14: Having Fun: Games and Vista.
Part V: Mobility.
Chapter 15: Computing to Go: Windows Vista Mobility Features.
Chapter 16: New Tablet PC Features.
Part VI: Internet and Networking.
Chapter 17: Browsing the Web with Internet Explorer 7.
Chapter 18: Windows Mail and Contacts.
Chapter 19: Using and Understanding Windows Live Services.
Part VII: Home Office/Power User.
Chapter 20: Managing Your Schedule with Windows Calendar.
Chapter 21: Keeping Your Data Safe.
Chapter 22: Microsoft PowerShell.
Appendix: Vista Symbols.
Index.
See More
Brian Livingston
is the coauthor of 11
Windows Secrets
books. He is also editorial director of the weekly
Windows Secrets Newsletter
and author of the Executive Tech column for
Datamation
.
Paul Thurrott is the author of more than a dozen books as well as the news editor of Windows IT Pro Media and editor of the SuperSite for Windows. He writes a daily Windows newsletter called WinInfo Daily UPDATE.
See More