Textbook
Calculus: Multivariable, 5th Edition
ISBN: 978-0-470-13158-9
480 pages
December 2008, ©2009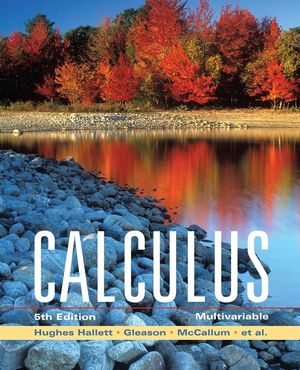 The fifth edition of
Calculus
brings together the best of both new and traditional curricula in an effort to meet the needs of even more instructors teaching calculus. The author team's extensive experience teaching from both traditional and innovative books and their expertise in developing innovative problems put them in an unique position to make this new curriculum meaningful to students going into mathematics and those going into the sciences and engineering. 
Multivariable Calculus, 5e exhibits the same strengths from earlier editions including the Rule of Four, an emphasis on modeling, exposition that students can read and understand and a flexible approach to technology. The conceptual and modeling problems, praised for their creativity and variety, continue to motivate and challenge students.  The fifth edition includes even more problems and additional skill-building exercises.

See More
12 FUNCTIONS OF SEVERAL VARIABLES.
12.1 Functions of Two Variables.
12.2 Graphs of Functions of Two Variables.
12.3 Contour Diagrams.
12.4 Linear Functions.
12.5 Functions Of Three Variables.
12.6 Limits and Continuity.
Projects: A Heater in a Room, Light in a Wave-Guide.
13 A FUNDAMENTAL TOOL: VECTORS.
13.1 Displacement Vectors.
13.2 Vectors in General.
13.3 The Dot Product.
13.4 The Cross Product.
Projects: Cross Product of Vectors in the Plane, The Dot Product in Genetics, a Warren Truss.
14 DIFFERENTIATING FUNCTIONS OF SEVERAL VARIABLES.
14.1 The Partial Derivative.
14.2 Computing Partial Derivatives Algebraically.
14.3 Local Linearity and the Differential.
14.4 Gradients and Directional Derivatives in the Plane.
14.5 Gradients and Directional Derivatives in Space.
14.6 The Chain Rule.
14.7 Second-Order Partial Derivatives.
14.8 Differentiability.
Projects: Heat Equation, Matching Birthdays.
15 OPTIMIZATION: LOCAL AND GLOBAL EXTREMA.
15.1 Local Extrema.
15.2 Optimization.
15.3 Constrained Optimization: Lagrange Multipliers.
Projects: Optimization in Manufacturing, Fitting a Line to Data Using Least Squares, Hockey and Entropy.
16 INTEGRATING FUNCTIONS OF SEVERAL VARIABLES.
16.1 The Definite Integral of a Function of Two Variables.
16.2 Iterated Integrals.
16.3 Triple Integrals.
16.4 Double Integrals in Polar Coordinates.
16.5 Integrals in Cylindrical and Spherical Coordinates.
16.6 Applications of Integration to Probability.
16.7 Change of Variables in a Multiple Integral.
Projects: A Connection Between e and π, Average Distance Walked to an Airport Gate.
17 PARAMETERIZATION AND VECTOR FIELDS.
17.1 Parameterized Curves.
17.2 Motion, Velocity, and Acceleration.
17.3 Vector Fields.
17.4 The Flow of a Vector Field.
17.5 Parameterized Surfaces.
Projects: Shooting a Basketball, Kepler's Second Law, Flux Diagrams.
18 LINE INTEGRALS.
18.1 The Idea of a Line Integral.
18.2 Computing Line Integrals Over Parameterized Curves.
18.3 Gradient Fields and Path-Independent Fields.
18.4 Path-Dependent Vector Fields and Green's Theorem.
Projects: Conservation of Energy, Planimeters, Amp`Ere's Law.
19 FLUX INTEGRALS.
19.1 The Idea of a Flux Integral.
19.2 Flux Integrals For Graphs, Cylinders, and Spheres.
19.3 Flux Integrals Over Parameterized Surfaces.
Projects: Gauss' Law Applied to a Charged Wire and a Charged Sheet, Flux Across a Cylinder Due to a Point Charge: Obtaining Gauss' Law from Coulomb's Law.
20 CALCULUS OF VECTOR FIELDS.
20.1 The Divergence of a Vector Field.
20.2 The Divergence Theorem.
20.3 The Curl of a Vector Field.
20.4 Stokes' Theorem.
20.5 The Three Fundamental Theorems.
Projects: Divergence of Spherically Symmetric Vector Fields, Divergence of Cylindrically Symmetric Vector Fields.
APPENDIX.
A Roots, Accuracy, and Bounds.
B Complex Numbers.
C Newton's Method.
D Vectors in the Plane.
E Determinants.
See More
increased number of skill-building and practice exercises, as well as additional problems

references to dates, prices, and other time-bound quantities updated for contemporary applied examples, problems, and projects

10% more "problem"-type questions in the test banks and instructor's manuals
See More
Provides students with a clear understanding of the ideas of calculus as a solid foundation for subsequent courses in mathematics and other disciplines

Rule of Four: ideas and concepts are presented graphically, numerically, symbolically, and verbally

Creative problems of great variety that probe student understanding

Emphasis on modeling

Exposition written in a way that students can actually read

Flexible approach to technology
See More
Instructors Resources
ENHANCE YOUR COURSE
Request a print evaluation copy
Contact us

Contact your Wiley Representative
Find Your Rep

See More
See Less
Students Resources
See More
See Less
Learn more about