E-book
MySpace For Dummies
ISBN: 978-0-470-13407-8
314 pages
January 2007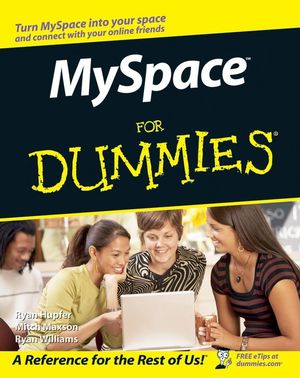 Filled with tips and tricks on how to use MySpace—from setting up a MySpace account to customizing your MySpace profile—
MySpace for Dummies
is your one-stop tutorial on all the ins and outs of the Internet's biggest socializing network.
This book helps you discover the nuts and bolts of MySpace with simple guidance on how to:
Use basic HTML
Secure your profile from unwanted contact
Join MySpace groups (and start your own)
Add songs and videos to your profile
Create a MySpace photo album
Access MySpace from your cell phone
Blog and keep in touch with friends via your account, and much more!
Whether you're looking to build connections and make friends, promote your band, or get the word out about your talents, MySpace is the place to connect with people online.
See More
Introduction.
Part I: MySpace Overview and Basics.
Chapter 1: Diving into the MySpace Pool.
Chapter 2: Enlisting in the MySpace Army.
Chapter 3: Staying Safe on MySpace.
Part II: The MySpace Community.
Chapter 4: Friending the MySpace Way.
Chapter 5: Staying in Touch via MySpace.
Chapter 6: Blogging on MySpace.
Chapter 7: Keeping Up with MySpace.
Chapter 8: Staying on Schedule with MySpace.
Chapter 9: Getting In with the In-Crowd.
Part III: Customizing MySpace.
Chapter 10: Your MySpace Photo Album.
Chapter 11: Sound and Movies.
Chapter 12: Customizing Your MySpace Page.
Part IV: Capturing Your Audience.
Chapter 13: Marketing the MySpace Way.
Chapter 14: Rockin' in the MySpace World.
Chapter 15: Finding Your Place on MySpace.
Part V: The Part of Tens.
Chapter 16: Ten MySpace Tools for Staying Safe.
Chapter 17: Ten Ways to Keep Away from MySpace Bad Guys.
Chapter 18: Ten MySpace Resources.
Chapter 19: Ten Other Social Networking Sites.
Index.
See More
Ryan Hupfer,
a self-proclaimed 'computer nerd', has been consuming, producing, and learning all things Web since his first introduction to dial-up. With a rare mix of being both a social butterfly and a tech geek, he has always strived to find ways to utilize technology in a way that connects people and calls them to action. He is a strong believer in the ability to fulfill and extend the human need to connect with others online and is always looking at ways to leverage emerging technologies to benefit people's lives. By the time he hit his college years, Ryan was deep into the world of computer programming; all while being a bartender at one of Indianapolis' most popular dance clubs.
In early 2004 Ryan's odd mix of being both a technology expert and socialite came together when he created his first online social community, www. HupsHoopty.com, which was based on his recent purchase of a brown 1992 GMC full-size custom van. This online community became an unlikely stepping stone and a door for opportunity in Ryan's life and eventually led him to landing his current dream job at Indianapolis-based new media/communications company, MediaSauce (www.mediasauce.com).
In December of 2005, Ryan and Mitch Maxson, both MediaSauce employees, along with Ryan's roommate, a film crew, and two bus drivers, traveled across the United States in a 50-foot tour bus for two weeks in search of their Top 8 MySpace friends –– whom they had never met. The tour, called "Hup 'n Dub's Top 8 Tour," was created in an effort to better understand why millions of people were so attracted to the new online social phenomenon. Since the tour, Ryan has been constantly keeping up with all things Web 2.0 and he is extremely inspired and intrigued by the ways that the online world is now flipping the media world upside down. Speaking of media, Ryan was also 'discovered' by a local NBC Indianapolis news station, WTHR (www.wthr.com), when they watched a video podcast that MediaSauce created around the 2006 Final Four, called IndyPods (indypods.mediasauce.com). With his hands in both the traditional and new media world, there's no telling where Ryan will end up next. You can keep up with him on his MySpace page at www.MySpace.com/hupdaddy.
Mitch Maxson spent two years with a small, traditional marketing firm before leaving to co-create his first interactive development firm (Transgres) after graduating from Purdue University. After two years of sustained growth, Transgres joined MediaSauce to pursue a shared vision of broadband-based integrated communications. Today, as a partner and Creative Director, Mitch has helped grow MediaSauce from 8 employees to more than 50 in just two years. As a constant proponent of "what comes next" and the emergence of audience-centric messaging and broadband connectivity, Mitch's focus is on understanding individuals and inspiring new ways for them to interact with their world.
With MediaSauce, Mitch has helped develop a side project known as Roster, which allows fans to connect to their favorite celebrities via video games, and traveled coast-to-coast to explore MySpace Friends in "real life" via The Top 8 Tour. On a more regular basis, Mitch can be found preaching the vision of the integration of communication, entertainment, and media while helping clients better understand their audiences and how to connect with them.
Ryan Williams is a multimedia designer, author, and bassist based in Indianapolis, Indiana. He's shared the stage and studio with everybody and everything from Grammy award-winning hip-hop artists to a full band of bagpipes and drums. He received his master's degree in music technology from the Indiana University School of Music in 2003. He's the author of Windows XP Digital Music For Dummies and Teach Yourself Visually Bass Guitar, both published by Wiley Publishing, Inc. He has also written several articles and tutorials on music and music technology for several publications and Web sites. He is a frequent panelist on digital music and home studios at music conferences around the nation.
See More